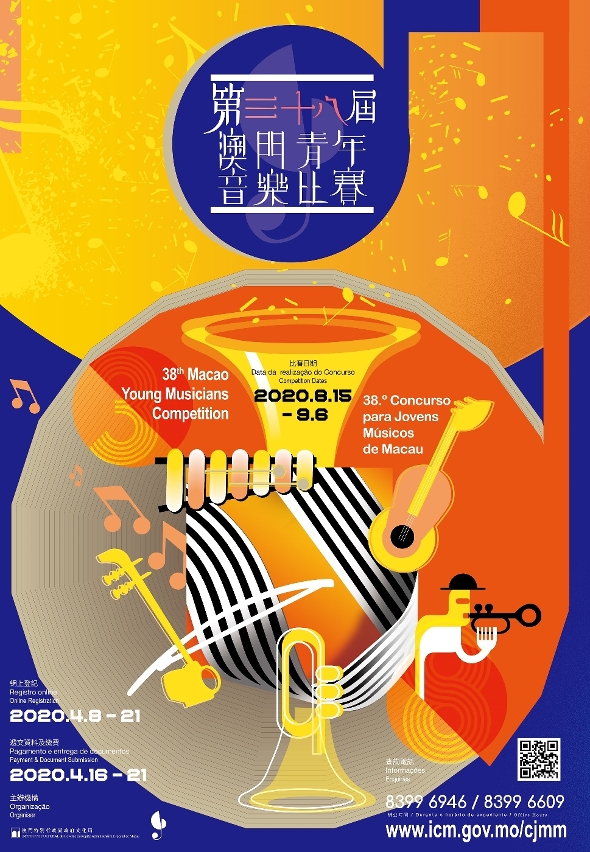 Applications for the 38th Macao Young Musicians Competition open in April
Due to the impact of the novel coronavirus pneumonia, the 38thMacao Young Musicians Competition, organized by the Cultural Affairs Bureau (IC, from the Portuguese acronym), will be postponed to between 15 August and 6 September. Applications will be open from 8 to 21 April. All interested eligible individuals are welcome to participate.
The "Macao Young Musicians Competition" aims at promoting the development of classical music in Macao, encouraging young local musicians to explore their musical potential and providing them valuable stage experience and learning opportunities. This edition, dedicated to Chinese and Western instruments and vocal music, features a number of categories including strings, woodwinds, brass, Chinese instruments and vocal. First, Second and Third prizes, Distinction and Merit certificates will be awarded in each category. All First Prize winners of each solo category at elementary, intermediate and advanced levels can compete for the Grand Champion, Grand First Runner-up or Grand Second Runner-up. The Grand Champion of the solo category at advanced level is considered as "Cultural Affairs Bureau Prize". All the First Prize winners in the ensemble categories will have the opportunity to compete for the "Best Ensemble Performance Prize". Holders of a Valid Macao SAR Resident Identity Card born in or after 1999 (for instrumental categories) and 1995 (for vocal categories) are welcome to participate in the Competition.
For the convenience of applicants, this year the application can be made online first, followed by payment and document submission. Applicants may register online from 10am on 8 April to 6pm on 21 April through the Macao Young Musicians Competition website (www.icm.gov.mo/cjmm), and the supporting documents and an application fee of MOP100 per category must be handed in person at the Cultural Affairs Bureau Building located at Tap Siac Square from 10am to 7pm between 16 and 21 April (open during lunch hour). Applicants may also prepare all required documents and make the online application with the assistance of IC staff at the Cultural Affairs Bureau Building during the document submission period and time indicated above.
More information regarding the competition application, regulations and repertoires can be obtained and downloaded on the Macao Young Musicians Competition website. IC may adjust the competition arrangements according to the progression of the epidemic, please stay tuned to the latest updates on the Competition's website. For enquiries, please contact IC through tel. no. 8399 6946 or 8399 6609 during office hours.
View gallery