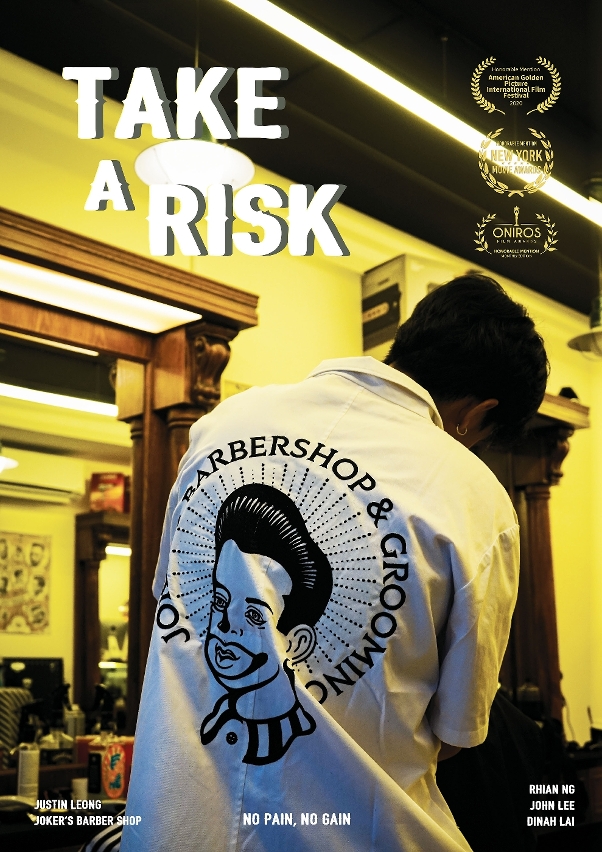 MPI students' award-winning short documentary TAKE A RISK
Being the first Design Programme in Macao, MPI's 25-year-old Bachelor of Arts is regarded as the regional cradle of the arts and creative industry. With the passion and love in arts, the persistence in pursuing dreams, MPI students actively participate in various competitions and received international awards. The class project TAKE A RISK, created by NG Weng Ian, LEI Seng Hou and LAI Weng Ian, students of MPI' s design programme, has received Honorable Mention of Best Documentary Short Film of American Golden Picture International Film Festival, Honorable Mention of Student Film of New York Movie Awards, and Honorable Mention of Best Student Film of Oniros Film Awards.
The documentary TAKE A RISK features the story of a local teenager, Justin, who is a big fan of basketball from which he learned about the Barbershop culture of the U.S. After having graduated from high school, he throws himself into the culture and learns to be a professional "barber". The short film is based on a true story in Macao. Trivial though it may seem, it significantly reflects the reality that every choice we make in life is a risk we take. Only through trying can we discover and explore the unknown and thus create, innovate and be different.
American Golden Picture International Film Festival is one of the emerging events in the industry where world-class independent films compete for excellence and recognition in the field of film production so as to win reputation and exposure. Award winners and official selection films of the monthly International Film Festival of New York Movie Awards and Oniros Film Awards are all qualified by and included in IMDb (Internet Movie Database).
To the winning students, these awards represent multiple meanings, which manifest theory and learning in development and innovation. Documentary is a new genre to the team. They are totally green to the choice of topic, directing, cinematography, editing, effects, sound and many other production aspects. "Thanks to the patience and mentoring of their teacher, the peer encouragement of the classmates and the support of MPI, TAKE A RISK has finally come into being." Throughout the process, the students have also acquired much knowledge and skills, and above all, the importance of working as a team. They also feel very privileged and grateful on winning three awards at their debut on the world stage; it thus further boosts their positivity, passion and confidence to venture into different genres in filming.
Alongside with TAKE A RISK, another MPI student film BLACKBEARS has also received two international filming awards; both short films are the class projects of MPI design programme at the third year of study. Under the supervision of the teacher, filming a documentary is a subject-based practice of the semester. Students select a topic of interest, and explore the process of image production. After filming, they try out different post productions and finally complete the creation of a film independently. Practical filming experiences allows students to have a firm grasp in the skills and application, and hence increase their critical thinking and creativity.
View gallery