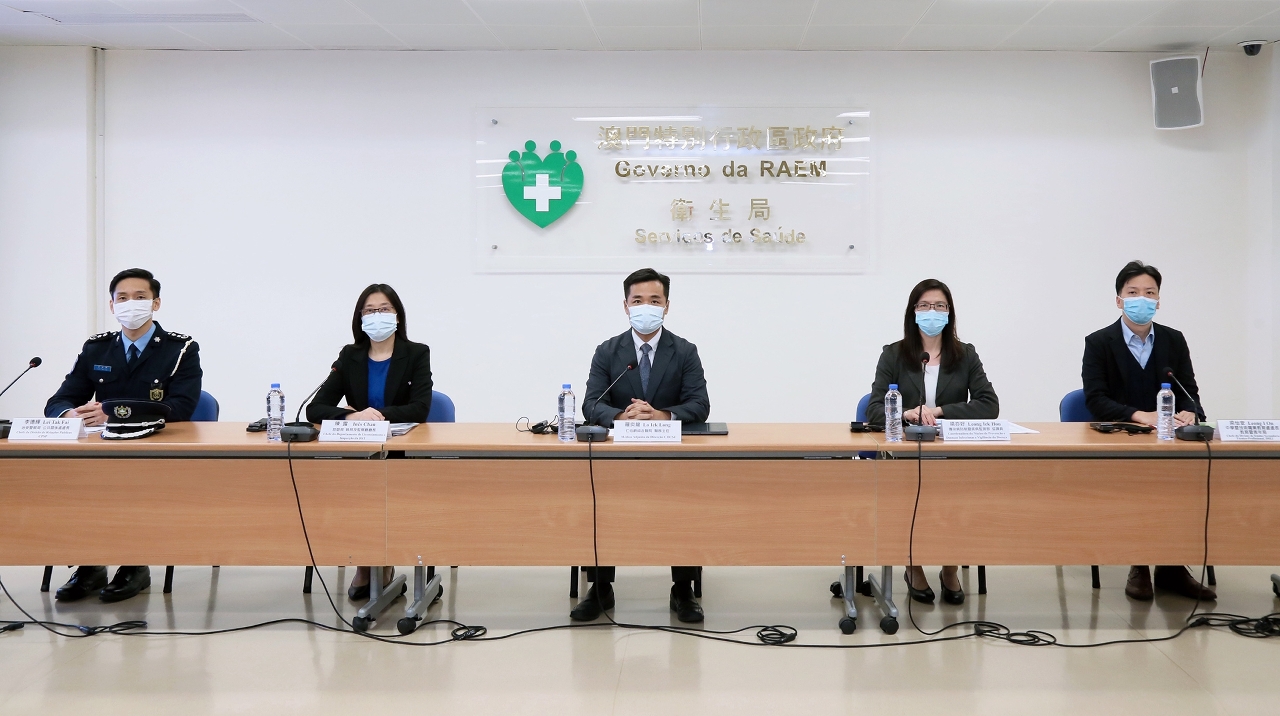 The Novel Coronavirus Response and Coordination Centre holds a press conference.
Macao has an extensive plan to monitor the health of people living in Macao that have contracted COVID-19 and subsequently recovered. Such checks include follow-up consultations via a specialised out-patient service.
There has been a total of 41 COVID-19 cases recorded in Macao. A total of 31 patients is confirmed currently to have the infection. A further 10 cases that had been confirmed at an earlier stage of the novel coronavirus alert had resulted in the discharge from hospital of those individuals after successful treatment.
Three out the 10 initial patients are Macao residents. Follow-up checks on them indicate they have no subsequent COVID-19 related health issues. The other seven initial patients are mainland residents and returned there after treatment.
The information was given during a press conference on Thursday (2 April) held by the Novel Coronavirus Response and Coordination Centre.
In addition, the Public Prosecutions Office has pressed charges against eight people suspected of breaching the terms of Macao measures concerning medical observation. Five Macao residents, two non-resident workers and one resident of Hong Kong were in aggregate the subject of such cases.
The eight people are each alleged to have violated epidemic-control measures. The maximum penalty for that offence is either a six-month term of imprisonment or a fine. Additionally, a non-resident worker had made false declaration regarding a residential address to be used for self-isolation; and continued to work during the isolation period. The relevant worker faced an additional allegation of forging a document. If found to have committed that breach, the relevant worker would be liable either to a three-year term of imprisonment or a fine.
Macao's most recent newly-confirmed case of COVID-19 infection was on Tuesday (31 March).
As of 2pm on Thursday (2 April), the Macao authorities had dealt with a total of 3,642 people suspected of having COVID-19. Of those, 41 have been confirmed as having the infection. A total of 3,599 people had been given the all-clear, and test results were pending on two people. There was an aggregate of 143 people in Macao classified as having had close contact with confirmed COVID-19 patients. Of those 143 people, 106 had respectively completed a 14-day period of medical observation with no symptoms of infection.
As of Thursday, a total of 632 samples had been sent to the Public Health Laboratory for analysis in relation to COVID-19.
There were 38 people as of Wednesday (1 April) embarking on a 14-day period of medical observation in relation to COVD-19 risk. That took the tally in Macao of those so far subject to such evaluation to 3,694 individuals.
As of Thursday, there were 2,317 people undergoing relevant medical observation in Macao, spread across several locations. Three people were undergoing self-isolation at home; 2,292 people were in designated hotels; and 22 individuals were staying at the Health Bureau facilities.
People who have completed a 14-day period of medical observation should follow closely the guidelines from the Health Bureau regarding management of their personal health. They should monitor their body temperature at least twice a day and seek medical attention immediately should they develop symptoms associated with COVID-19 infection. Staff from the Health Bureau would call those individuals on a daily basis over an appropriate period of time, enquiring about the condition of their health subsequent to the medical-observation period.
In addition, the eighth round of the face mask supply scheme started on Thursday. As of that time until 11 April, members of the public may purchase a total of 10 face masks at an aggregate cost of eight patacas, from any of the 84 designated locations by presenting either a Macao ID card or a non-resident worker ID card.
The Government has sufficient face masks for purchase by Macao residents and non-resident workers during the eighth round of the supply scheme. The public are advised not to hurry to buy such items in the first few days of the new round of sales.
View gallery