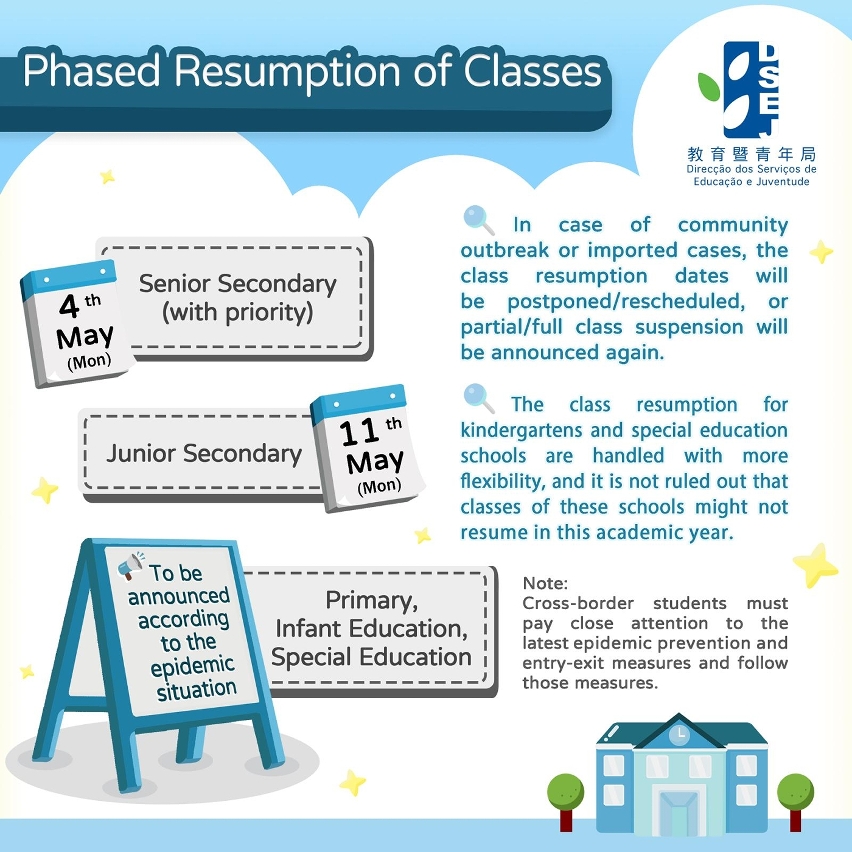 The DSEJ Announces the Preparatory Plan for Class Resumption in May for Non-Tertiary Education Schools
In response to the spread of the novel coronavirus pneumonia epidemic in Macao, the Education and Youth Affairs Bureau (hereinafter referred to as the "DSEJ") announced the suspension of classes for non-tertiary education schools after the lunar new year holiday. During the class suspension period, the DSEJ has kept close communication with the health department, education institutions and persons in charge of schools to actively study on formulating a class resumption preparatory plan which takes students' safety as the utmost concern. There is a consensus that senior secondary schools are given priority to resume classes first and there will be phased resumption of classes for the other grades.
After having considered the current situation in Macao and listened to the professional opinions from the health department, the DSEJ has determined that non-tertiary education schools will resume classes from May onwards (see the table below). The DSEJ urges cross-border teachers and students to closely pay attention to the latest epidemic prevention and entry-exit measures and make relevant preparations.
| | |
| --- | --- |
| Educational stages | Date |
| Senior secondary education | 4th May (Monday) |
| Junior secondary education | 11th May (Monday) |
| Primary, infant and special education | To be announce according to the epidemic situation |
Notes:
After class resumption, parents can apply for their children to take reasonable absence from school depending on the epidemic situation and the students' needs. Schools should handle the situations flexibly.
The class resumption date might be rescheduled according to the changes in the epidemic situation after taking into consideration of the opinions from the health department.
Infant and special education are considered to be handled with more flexibility and it is not ruled out that classes for them will not resume in this academic year.
For better preparation of class resumption, the DSEJ has formulated the Class Resumption Guidelines for schools; the content of which covers the aspects of health and epidemic prevention measures, teaching and learning, assessment and promotion/retention. To ensure smooth resumption of classes, the DSEJ will provide support to assist schools in conducting drills in accordance with the Class Resumption Guidelines before resumption of classes to enable teachers and school staff to grasp the details of various work after class resumption and the response plans. The Guidelines will be uploaded to the DSEJ website, and it is hoped that schools can prepare well for resumption of classes in accordance with the Guidelines.
If confirmed cases are found after class resumption, the DSEJ will discuss with the health department on the nature of the cases and decide whether or not to suspend classes for some or all schools, or decide if class suspension is not necessary.
The DSEJ will continue to pay attention to the development of the epidemic and keep in close communication with different education stakeholders to strengthen cooperation with them so as to carry out related work in the class resumption preparatory plan well.
View gallery