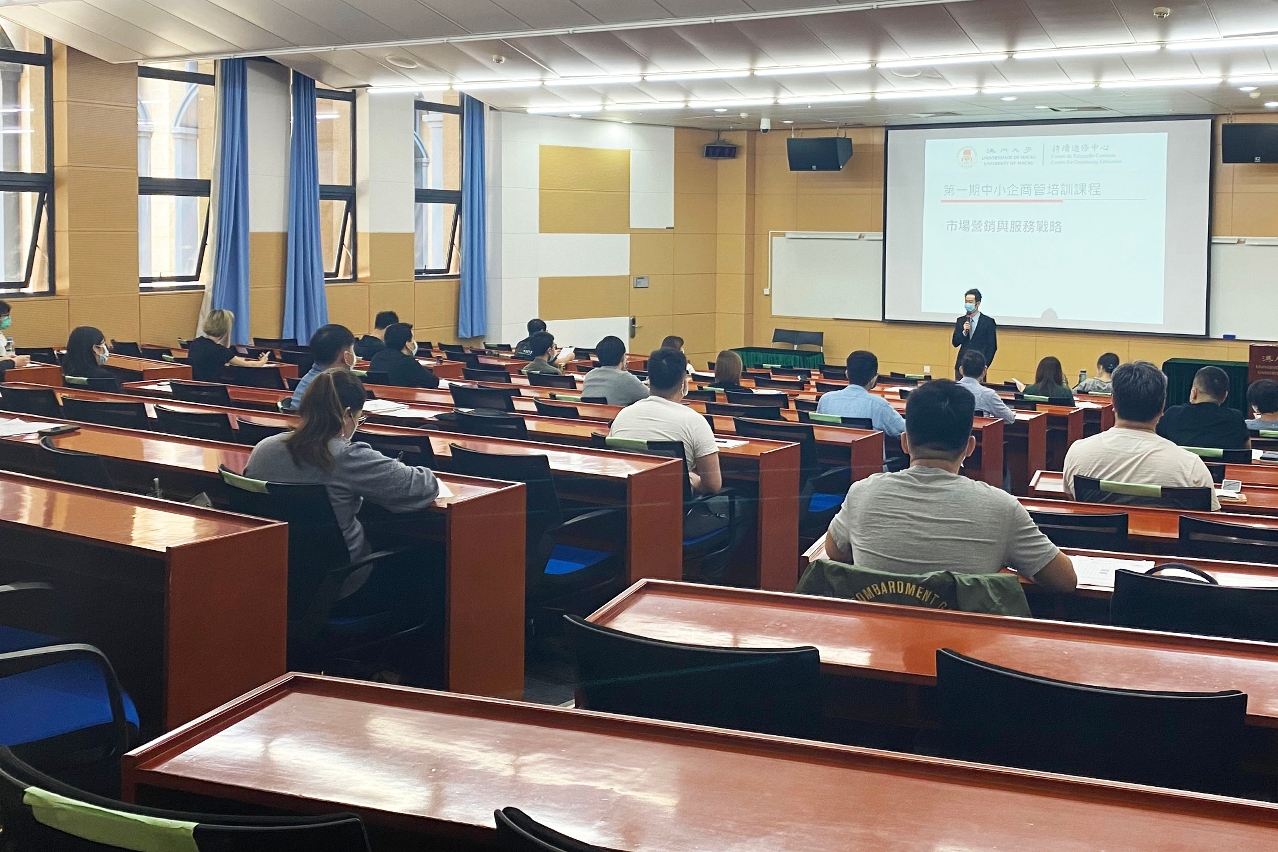 UM offers training courses for local SMEs to enhance their competitiveness
In response to the epidemic, the University of Macau (UM) earlier launched two training courses, namely Marketing and Service Strategy, and Crisis Management and Leadership, for owners and employees of small- and medium-sized enterprises (SMEs) in Macao. The two courses have been very well received and the quotas were quickly filled. They will start today.
The second batch of SME training courses, namely Fundamental Finance and Accounting Practice, and Human Resources and Organisational Management, are now also open for registration until 26 April. The two courses are designed to encourage owners and employees of local SMEs to continue upgrading their business knowledge and skills during the epidemic in order to enhance their competitiveness. Both courses were originally priced at MOP 3, 900, and are now offered for free. Quotas are limited, and applications will be processed on a first-come-first-served basis. Macao identity card holders who are working in a SME (proof of employment is required for registration) will be given priority for admission.
These courses are co-organised by UM's Centre for Continuing Education (CCE) and Faculty of Business Administration (FBA). The CCE is dedicated to providing quality training courses and teaching support services for the general public to promote continuing education and lifelong learning in Macao. In response to the epidemic, UM decides to offer courses free of charge so that Macao residents can continue to upgrade their knowledge and skills at home. The FBA is the first business school in Macao to be accredited by the Association to Advance Collegiate Schools of Business (AACSB) and the Association of MBAs (AMBA). It is also a full member of the European Foundation of Management Development (EFMD) and the Global Business School Network (GBSN).
The second batch of SME training courses will be taught by experienced instructors. The greatest challenge faced by local SMEs during the epidemic is limited manpower. The Human Resources and Organisational Management course will teach participants how to design and use effective methods to maximise employee performance and productivity in order to improve the operating proficiency and profits of their companies. The Fundamental Finance and Accounting Practice course will focus on basic financial and accounting knowledge, including the business activities of a company, accounting affairs, investment and financing transactions, as well as the presentation and use of major financial statements. The two courses will begin on 5 May and are expected to be completed by the end of May.
For more information or registration, please visit CCE's website at https://cce.um.edu.mo/course/. For enquiries, please email to cce.enquiry@um.edu.mo or call 8822 4545.
View gallery