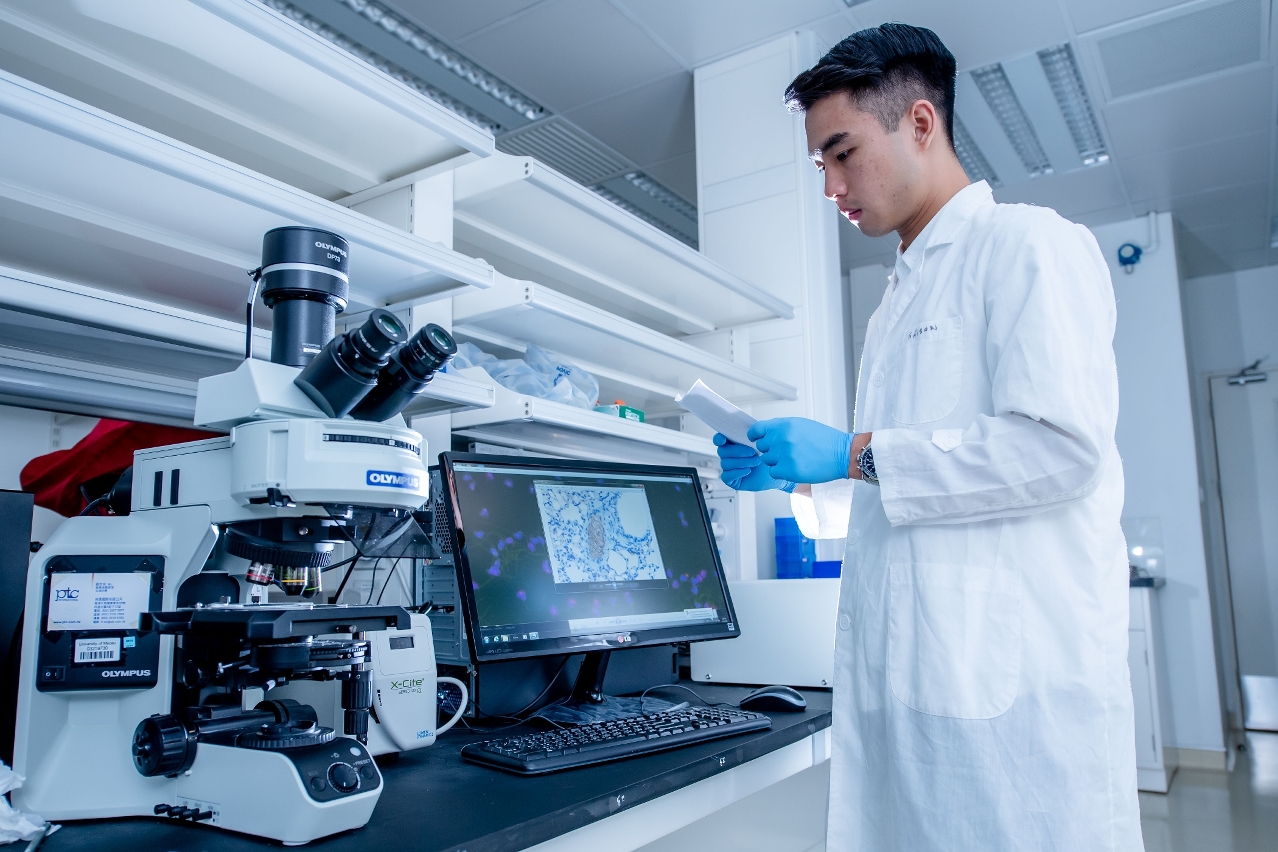 UM supports the SAR government's development through innovative technology
With the great support of the central government and the government of the Macao Special Administrative Region (SAR), the University of Macau (UM) focuses on the major needs of Macao and the country and vigorously promotes the development of innovative technology by making full use of its advantages in order to foster a source of innovative technology for the sustainable development of the Macao SAR. On the strength of its past research achievements, UM has established a '3+3+3' research blueprint, under which the university actively establishes new platforms for technology and innovation and vigorously promotes interdisciplinary research in order to create a momentum for technology-driven development.
UM actively supports China's development strategy for GBA, which aims to develop the area into an important node and technological innovation highland in the so-called 'Guangzhou-Zhuhai-Macao Science and Technology Corridor' in western GBA. Considering Macao's status as an international city, the advantages of the 'One Country, Two Systems' policy, and the overall small size of UM, the university's research strategy can be summarised as 'focusing on key areas', 'making use of advantages', 'creating peaks', 'highlighting characteristics', and 'strengthening cooperation'. The university focuses on supporting disciplines that reflects both Macao's unique characteristics and global trend. A '3+3+3' research blueprint, which comprises three state key laboratories, three emerging research fields, and three interdisciplinary research fields, has been established.
The first '3' refers to three state key laboratories. The three labs conduct cutting-edge scientific research in ultra-large-scale integrated circuits, traditional Chinese medicine quality research, and Internet of Things applications for smart cities. The second '3' refers to three emerging research fields, namely precision medicine, advanced materials, and regional oceanology. The third '3' refers to three interdisciplinary research fields, namely cognitive and brain sciences, artificial intelligence and robotics, as well as data sciences. Through establishing a new blueprint for scientific research and development, the university hopes to attract scientific and technological talent, give full play to its research strengths, and cultivate a source of innovation.
Macao is not only a world-famous gambling destination, but has also become increasingly known in recent years for the cutting-edge chips developed by UM's State Key Laboratory of Analog and Mixed-Signal VLSI. The university now has a world-class chip measurement platform and is the best in the world in terms of analog-to-digital converters. Chinese medicine research is a unique research area at UM, which covers Chinese medicine quality research, international standards for Chinese medicine, development of innovative drugs and health products, and the formulation of Chinese medicine standards in the European Pharmacopoeia Union and the United States Pharmacopoeia, as well as the commercialisation of research results. The State Key Laboratory of Internet of Things for Smart City focuses on the innovation of theoretical research results for complex urban ecosystems. Working with science and technology institutions in Macao, the lab uses the latest technologies to help various departments apply smart city technology, 5G communication technology, and Internet of Things technology in their daily operations in order to improve their ability and efficiency in management, execution, and response. UM attaches great importance to the development of artificial intelligence, and has achieved outstanding results in such fields as pattern and image recognition, classification, as well as object tracking and recognition. UM has also established partnerships with numerous national scientific research institutions such as the Chinese Academy of Sciences (CAS). So far, it has established five joint laboratories with research institutes under the CAS.
UM has completed many high-quality research projects, with the results of some applied research projects showing great promise for industrial application. For these projects, the university has initiated the process of industrialisation. Some of these projects have even led to new projects that have attracted the attention and interest of the related industries. In the future, UM will continue to fulfill its mission of serving society with innovative technology and research, and will continue to promote collaboration in scientific research and education with universities in the GBA, take advantage of its high degree of internationalisation of universities, and cooperate with world-class universities to jointly lead innovation and higher education in western GBA.
For information about the development of innovation and technology at UM, please visit UM's website at https://go.um.edu.mo/u9p0h4tp
View gallery