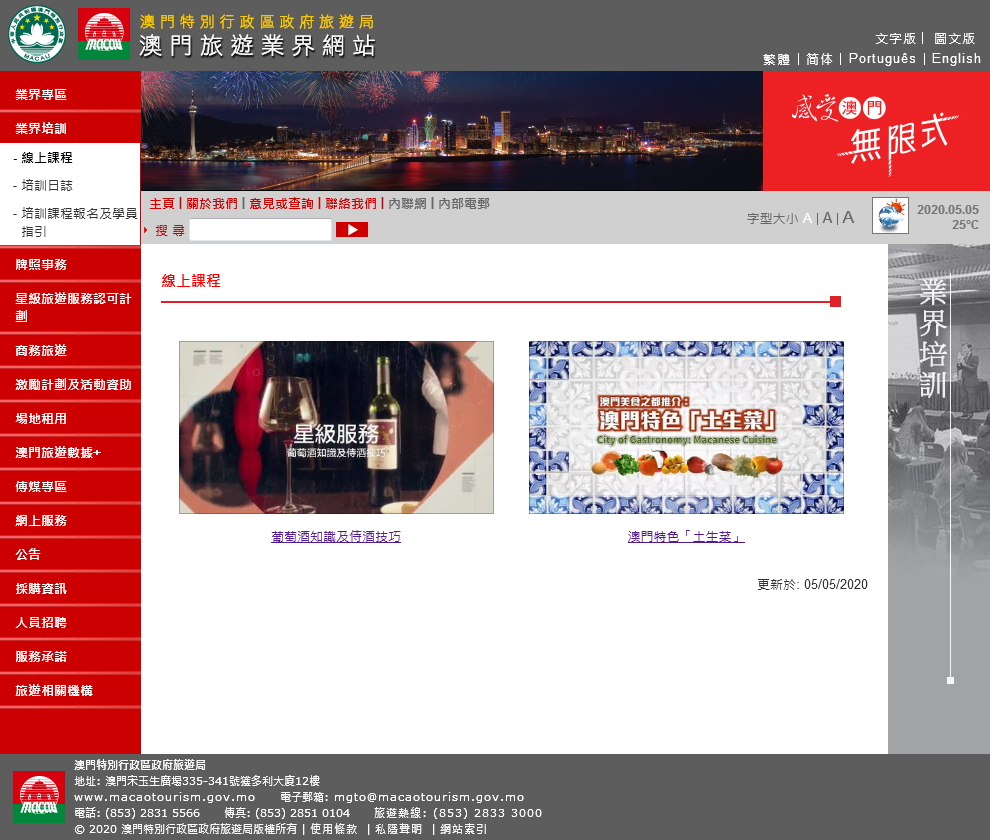 MGTO launches online learning videos for catering professionals and encourages continuing education for them
Starting today (5 May), Macao Government Tourism Office (MGTO) is launching online learning videos in a range of series tailored for catering professionals to gain deeper knowledge about occupational safety, hospitality skills and more. The videos enable continuing education and knowledge enrichment, which catering professionals can leverage conveniently during the pandemic to enhance their competitiveness at work, thus advancing catering service quality in Macao and its development as a Creative City of Gastronomy.
The online learning videos are being launched in stages on the Macao Tourism Industry Net throughout the period between May and September, with two new videos launched monthly. The videos cover a diversity of practical topics including food and occupational safety for the catering industry, fundamental service skills in restaurants, star-rated service skills, culinary knowledge about ingredients and cuisines, etc. The video lectures are mostly given in Cantonese while some are available in both Cantonese and Mandarin.
The learning videos comprise five series in total. The first two videos are themed after Macanese cuisine, as well as wine knowledge and serving skills. Catering professionals and interested parties are welcome to watch the videos for free, which, along with the introduction, can be accessed via the link "Industry Training – Online Course" on the Macao Tourism Industry Net (https://industry.macaotourism.gov.mo). The learning videos are sponsored by MGTO and produced by the United Association of Food and Beverage Merchants of Macao.
With the launch of the online learning videos, MGTO seeks to provide continuing education opportunities for members of the trade to enhance their expertise during the pandemic. Catering employees and aspirers for a catering career are encouraged to equip themselves for brighter career prospects. The initiative also aims to steer the catering industry toward diversification and professionalism, and lead to greater quality in travelers' experiences.
View gallery