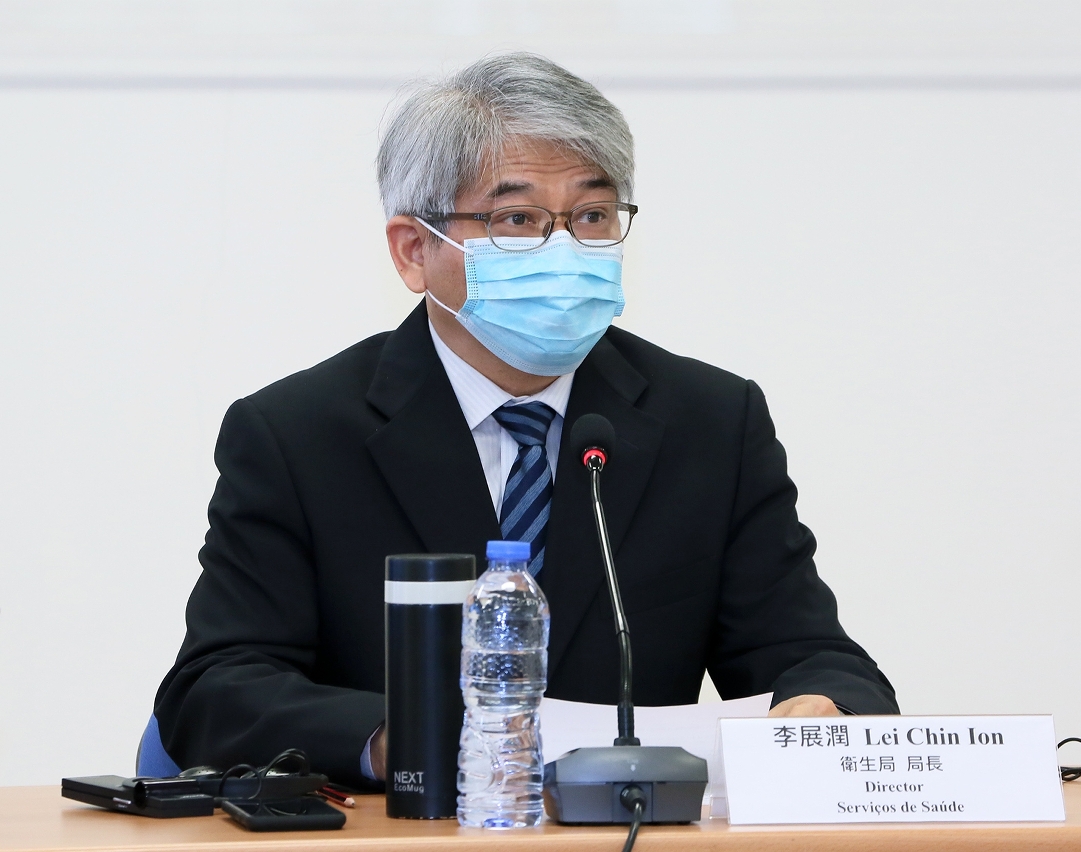 The Director of the Health Bureau, Mr Lei Chin Ion, speaks at Tuesday's press conference.
The last COVID-19 patient in Macao was discharged from medical care on Tuesday afternoon (19 May) following successful treatment at Macao public health facilities.
The patient – a 15-year-old female Macao resident – is now undergoing a 14-day period of post-recovery health monitoring at the Public Health Clinical Centre in Coloane.
The news was announced on Tuesday during a press conference held by the Government's Novel Coronavirus Response and Coordination Centre.
There has been a total of 45 confirmed COVID-19 patients in Macao and all of them have now been released from medical care. All persons previously classified as having had close contact with confirmed COVID-19 patients have also been given the all-clear after a period of monitoring.
Of the aggregate 45 COVID-19 cases, 35 were recorded from 15 March onward during a so-called second wave of the novel coronavirus alert. The 10 patients recorded prior to that, i.e., starting from late January, had been successfully treated in hospital at an earlier stage.
Macao has had zero COVID-19-related deaths and zero infections among medical staff. These achievements were thanks to the dedication and effort of Macao's medical professionals, along with concerted effort from the Government and from the community, said the Director of the Health Bureau, Mr Lei Chin Ion, at Tuesday's press conference.
Mr Lei spoke of the importance of early diagnosis of the disease for timely treatment, a view based on study of the 45 cases recorded in Macao.
He called on all members of the community to continue with disease-control measures, including: the wearing of protective face masks; the avoidance of gatherings; the maintenance of ventilation indoors; the disinfection of objects commonly handled by a range of people; the frequent washing of hands; and the keeping of appropriate social distance.
Mr Lei said additionally that Macao had been in talks with the Hong Kong and Guangdong authorities regarding whether there might be relaxation of entry-restriction measures. Any news regarding the topic would be announced in a timely manner.
Entry-restriction measures aimed to control the disease from spreading and thus protect the health of the public. Such measures helped maintain the effectiveness of local disease-control work, he added.
View gallery