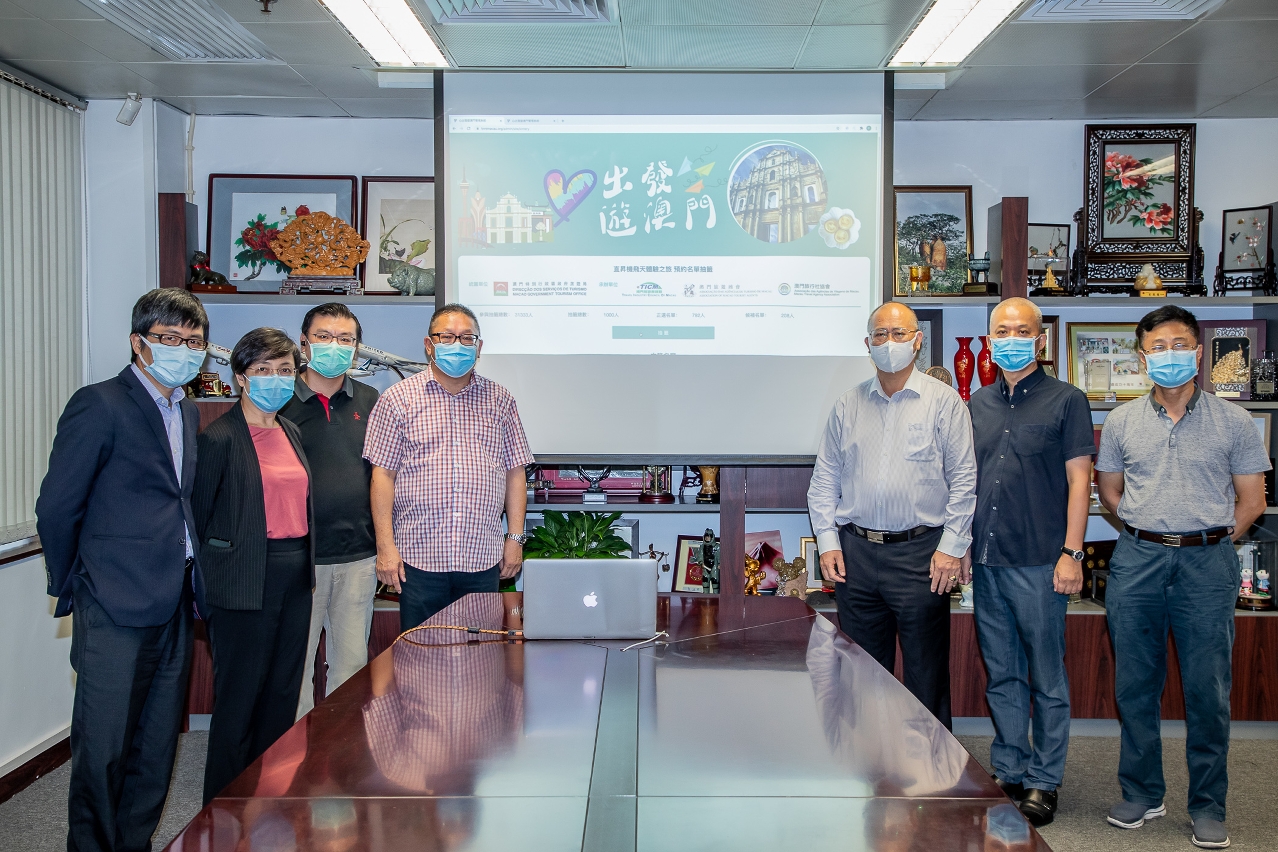 Electronic lots for "Helicopter Ride Experience" local tour are cast smoothly
32,008 residents applied for the local tour "Helicopter Ride Experience" under the umbrella of "Macao Ready Go! Local Tours" before the deadline last evening (26 July). After verification, a total of 31,333 residents became eligible applicants. Electronic lots were drawn at Macao Government Tourism Office (MGTO) at 2:30 p.m. today (27 July), witnessed by MGTO Director Maria Helena de Senna Fernandes and Deputy Director Cheng Wai Tong among others. A representative of the task force comprising Macau Travel Agency Association, Association of Macao Tourist Agents and Travel Industry Council of Macau pressed the button for lots casting in the smooth process.
1,000 applicants in total were numbered by the lots. The first 792 listed applicants were each given two quotas for joining the local tour, amounting to 1,584 quotas in total. Applicants can check out the list on MGTO's website https://www.macaotourism.gov.mo from 4 p.m. onwards today, while applicants numbered 1 — 792 in the list will be notified individually by the travel agencies concerned. Given that the local tour "Helicopter Ride Experience" will start this Friday (31 July), the above listed applicants are required to confirm their date of participation and names of tour participants as well as complete the tour fee payment between today (27 July) and 6 p.m. this Wednesday (29 July). If listed applicants cannot complete the application formalities by 6 p.m. on 29 July, they will be regarded as giving up their quotas. The other 208 listed applicants on the waiting list will take up the quotas in order, awaiting subsequent notification from the travel agencies concerned.
Every helicopter can accommodate up to 12 passengers. Participants will be assigned seats designated by helicopter staff upon arrival. One window seat will be allocated to every group of two participants basically. For safety reasons, participants between 2 and 12 years old or at the age of 65 or above will not be assigned window seats.
Should a helicopter flight be cancelled because of adverse weather conditions or technical issues, the task force will coordinate with the helicopter service provider on rearrangement of tour dates.
Applicants can contact the travel agencies which handled their applications for further enquiry.
View gallery