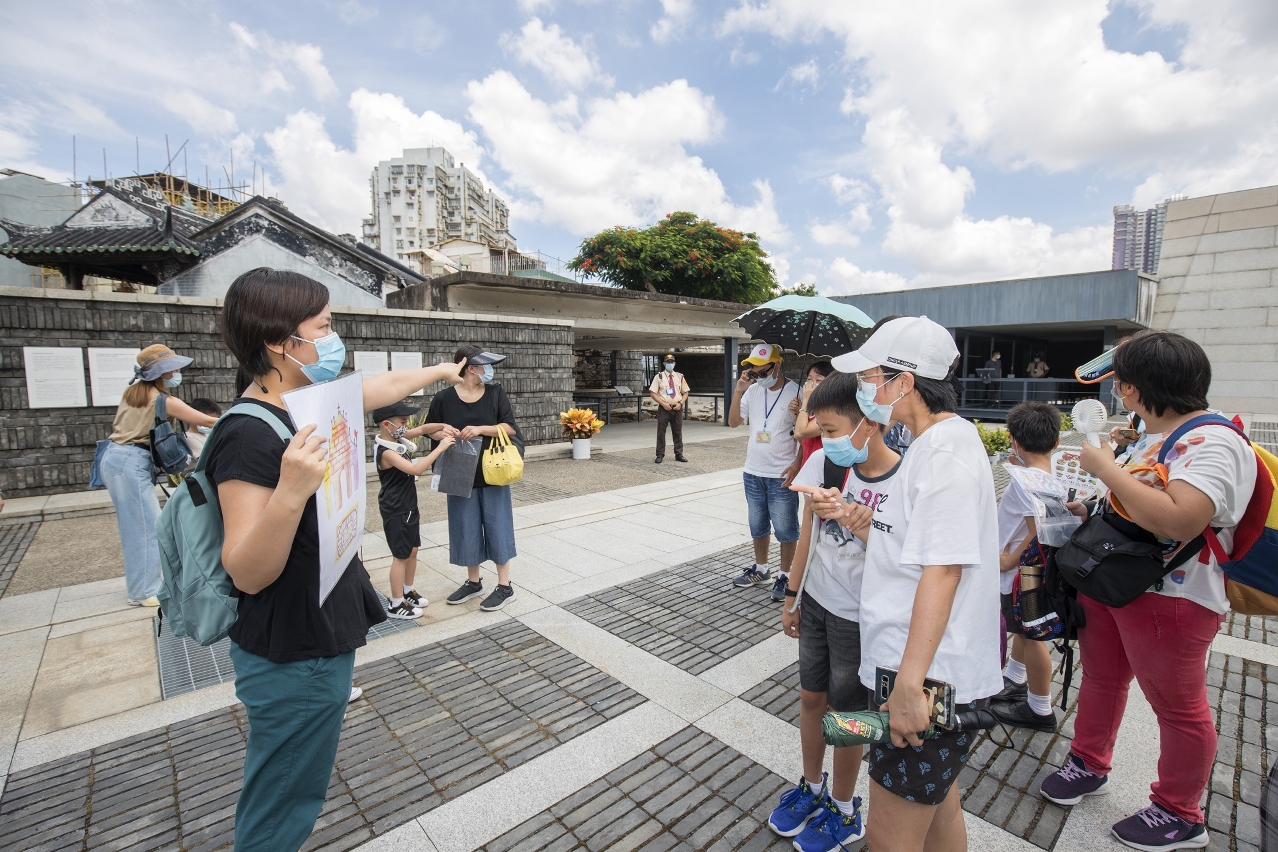 Special session of the "Heritage City Tours" for disadvantaged groups successfully held as part of the series activities celebrating the 15th anniversary of the inscription of the Historic Centre of Macao on the World Heritage List
The "Heritage City Tours – Guided Tours and Illustration Workshop", part of the series of activities held to celebrate the 15th anniversary of the inscription of the "Historic Centre of Macao" on the World Heritage List, organized by the Cultural Affairs Bureau (IC, from its Portuguese acronym), has been held in different sessions in July, featuring five elaborated routes designed to guide participants through the Historic Centre, sharing the joy of the inscription with the public. The activity received an enthusiastic response from the public, and the additional sessions quickly became full soon after they were launched. On 25 July, a session dedicated to members of the Macau Autism Association was held, offering local disadvantaged groups more opportunities to appreciate the World Heritage with their families.
Led by professional guides and illustrators, and accompanied by staff of the Association and of IC, ten groups comprising members of the Macau Autism Association and their families visited the Ruins of St. Paul's College (Ruins of St. Paul's, forecourt and stairway), Na Tcha Temple (near the Ruins of St. Paul's), and the Old City Walls (sections on Calçada de S. Francisco Xavier). With the guide's professional explanation and the illustrator's careful guidance, the participants gained a deeper understanding of Macao's World Heritage and its origins, and enjoyed the fun of making their travel diaries. The activity featured a dynamic learning atmosphere and participants spent a pleasant weekend together.
IC has been committed to promoting the spirit of "Protecting and Appreciating Our World Heritage Together" to people from all walks of life. By holding this special session, IC hopes to raise public awareness of and support people with autism, enabling the Association's members and their parents to discover their latent potential while enjoying the process and learning more about Macao's World Heritage. For more information about the activities, please visit the official website at www.icm.gov.mo/mhd15.
View gallery