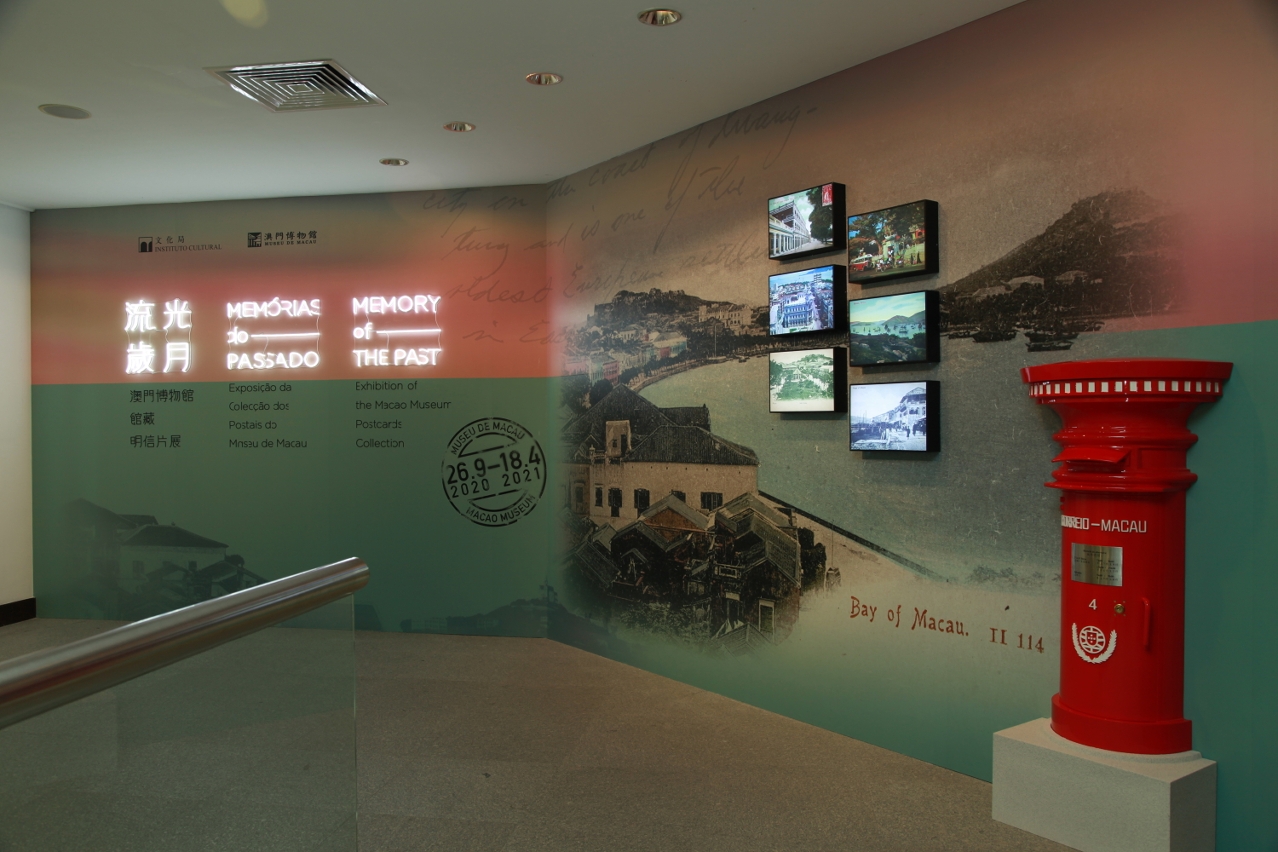 Memory of the Past – Exhibition of the Macao Museum Postcards Collection
The Macao Museum, under the auspices of the Cultural Affairs Bureau, has organized the exhibition "Memory of the Past – Exhibition of the Macao Museum Postcards Collection", which has attracted many visitors and tourists since its opening in September last year. In order to allow more people to view the treasures of the Macao Museum's collection, the exhibition will be extended until 30 May, and everyone is welcome to continue to visit it.
The exhibition displays more than 180 selected postcards and associated items from the museum's collection. The display seeks to represent the glory of Macao dating back to the period between the late 19th century and the 1980s, allowing visitors to revisit the old city and witness the change of the times. It comprises two sections, namely 'Macao in the Old Days' and 'Today's Macao'. The former will lead visitors to experience the city's 'Coastal Scenery', 'Elegant Architecture' and 'Lush Gardens' in the bygone days, while the latter will display the characteristics of the small city, including 'Interlaced Lanes', 'Accessible Transportation', 'Recreation and Entertainment' and 'Outstanding Talents and Profound Culture'. From bustling ports to tranquil alleys, the exhibits manifest Macao's social and cultural characteristics featuring the co-existence of different ethnicities and cultures through a variety of forms such as historical paintings and photographs.
In order to promote the establishment of virtual exhibitions and provide a richer and diversified museum experience to the public, the Macao Museum launched an online virtual reality (VR) version of the current exhibition "Memory of the Past – Exhibition of the Macao Museum Postcards Collection". By simply scanning the relevant QR code or logging in to the Macao Museum website, the public can enjoy the 360-degree interactive experience of the thematic exhibition space located on the third floor of the Macao Museum, roam through the exhibition and browse the detailed information of exhibits.
The Macao Museum is open daily from 10 am to 6 pm (ticket sales stop at 5:30 pm) and closes on Mondays. Admission is free on Tuesdays and on the 15th of every month. Admission is free for Macao residents who present the respective Macao SAR Resident Identity Card. For related information, please call the Macao Museum through no. 28357911 during office hours or visit the Museum website at www.macaumuseum.gov.mo. The Cultural Affairs Bureau will continue to closely monitor the epidemic situation, actively cooperate with the relevant guidelines issued by the Health Bureau, and make proper arrangements for cultural activities.
View gallery