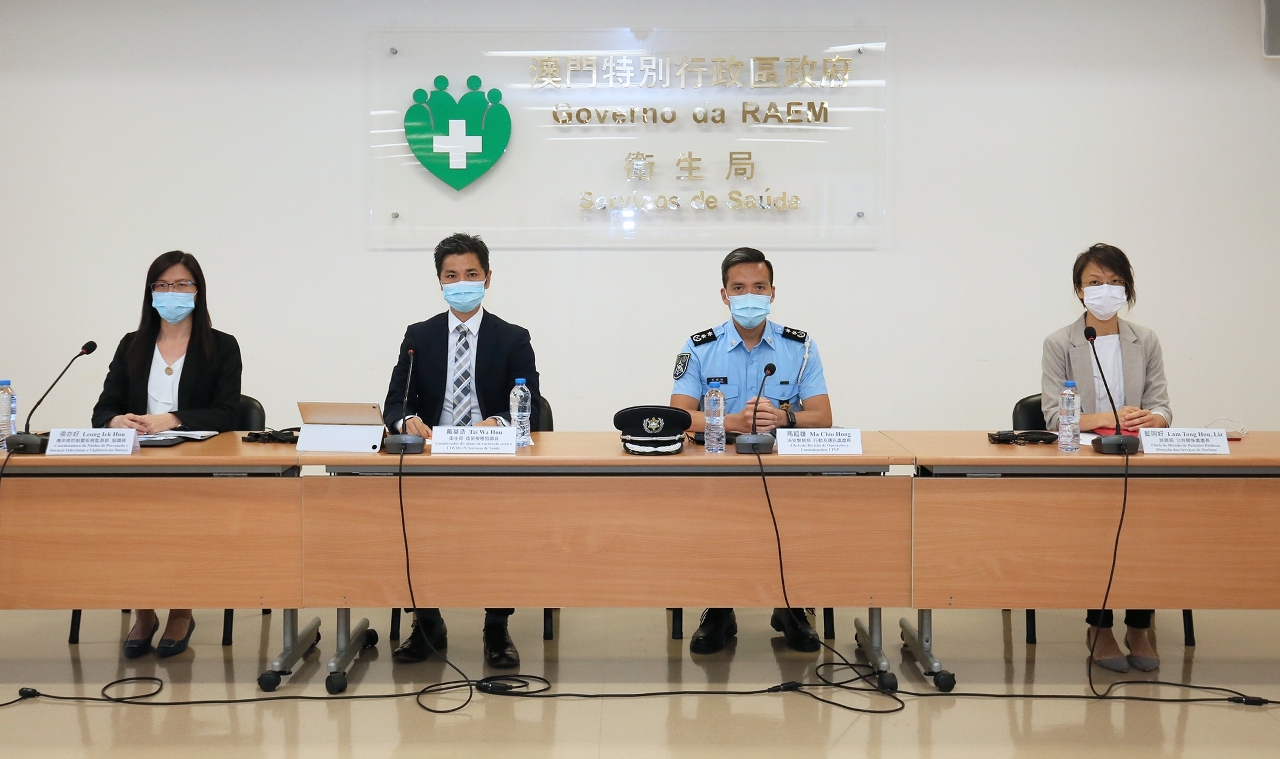 A regular press conference of the Novel Coronavirus Coordination and Response Centre.
Foreigners wishing to enter Macao on the grounds either of reunion with family members, or having close connection with Macao, have now facilitated procedures to travel between Macao and mainland China.
Their entry must be approved in advance by the Health Bureau, and such persons must not have travelled to any place outside either mainland China or Macao in the 21 days prior to their intended arrival to Macao.
The measures became effective from the stroke of midnight today, according to Executive Order No. 71/2021
The new order aimed to facilitate travel by eligible foreigners between mainland China and Macao. The news was announced on Tuesday (4 May) during a regular press conference of the Novel Coronavirus Coordination and Response Centre.
The updated rule lifted a requirement for such eligible foreigners to stay on the mainland for 21 days before being able to return to Macao. For example, an eligible foreign passport holder who does not have a mainland China visa issued by the Office of the Commissioner of the Ministry of Foreign Affairs of the People's Republic of China in the Macao SAR, may return to Macao – under the new rule – without being required to stay on the mainland for 21 consecutive days.
In view of the updated rule, the Health Bureau website has added a link to the new application system for entry by foreigners.
As of Tuesday (4 May), Macao had not recorded any COVID-19 community case (including asymptomatic cases) for 401 consecutive days, and no imported case for 27 consecutive days.
Macao had dealt with a total of 49 confirmed COVID-19 patients since the start of the pandemic. Of the aggregate, 47 cases were imported and two were categorised by infection related imported cases. Macao has had zero COVID-19-related deaths and zero infections among medical staff.
In Macao, a citywide COVID-19 vaccination programme had been launched on 9 February. As of 4pm on Tuesday, a total of 109,255 COVID-19 jabs had been administered in Macao. A total of 71,719 individuals in Macao were categorised as having received a vaccine against COVID-19. Of those, 34,045 people had received solely a first dose, and 37,674 had each received two doses of vaccine.
During the 24 hours from 4pm on Monday (3 May) to 4pm on Tuesday (4 May), the Health Bureau had received nine notifications about reactions related to vaccination. There was zero incidence of a serious adverse event; and nine instances involving a minor event.
Since the beginning of the vaccination programme, there had been 498 notifications about reaction to vaccination, including two instances of serious adverse event; and 496 cases of a minor event.
A vaccination appointment can be made via https://eservice.ssm.gov.mo/covidvacbook. For details of the vaccination programme, please refer to a dedicated webpage: https://www.ssm.gov.mo/apps1/covid19vaccine/en.aspx.
View gallery