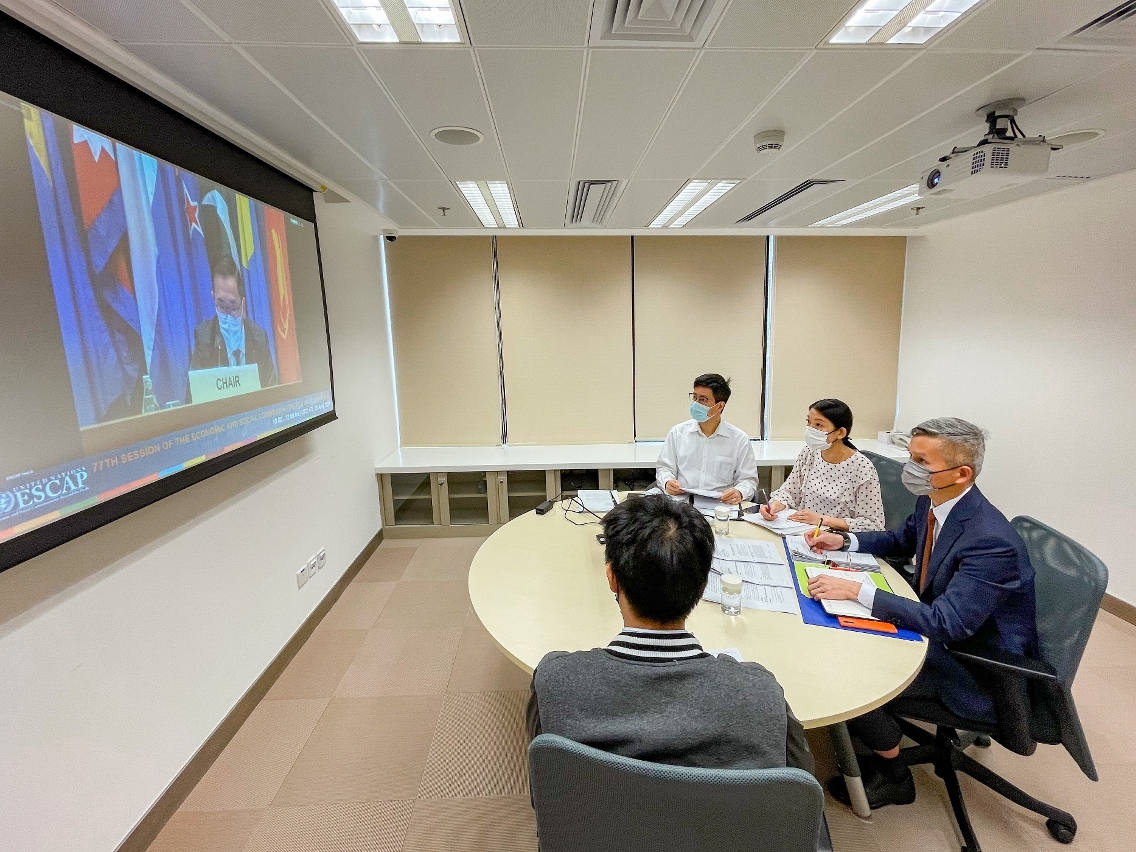 Delegates of Macao, China attend virtually the 77th session of ESCAP
The 77th session of the United Nations Economic and Social Commission for Asia and the Pacific (ESCAP) was held days earlier (26 to 29 April) in a virtual format. It was attended by, among others, Mr. Tai Kin Ip, Director of the Economic and Technological Development Bureau of the Government of the Macao Special Administrative Region, as well as Mr. Leong Wa Fong, Manager of Research and Information Division of the Macao Trade and Investment Promotion Institute, with a view to strengthening the external economic ties of Macao, China.
Held virtually under the theme "Building back better from crises through regional cooperation in Asia and the Pacific", this session centred on how to strengthen resilience to crises through further enhancing regional cooperation, as well as promoting seamless trade and transportation connectivity. It also focused on discussing regional perspectives and initiatives for addressing the COVID-19 pandemic and assessing its impact on economy and society.
To enhance the ties and exchanges with other members, Macao, China submitted a written statement to the session this year to elaborate on the relief measures aiming to ensure employment, boost the economy and enhance the livelihoods of local people, as well as the plans to revitalize the tourism industry taken by the Macao SAR Government in response to the COVID-19 pandemic.
The implementation of the 2030 Agenda for Sustainable Development in Asia and the Pacific and issues pertinent to the subsidiary structure of ESCAP were also reviewed at the session.
ESCAP is an arm of the United Nations in Asia with a mission to assist its members in addressing economic and social challenges through promoting regional and sub-regional cooperation and integration. Macao, China has long been attending the annual Commission sessions of ESCAP as an associate member.
View gallery