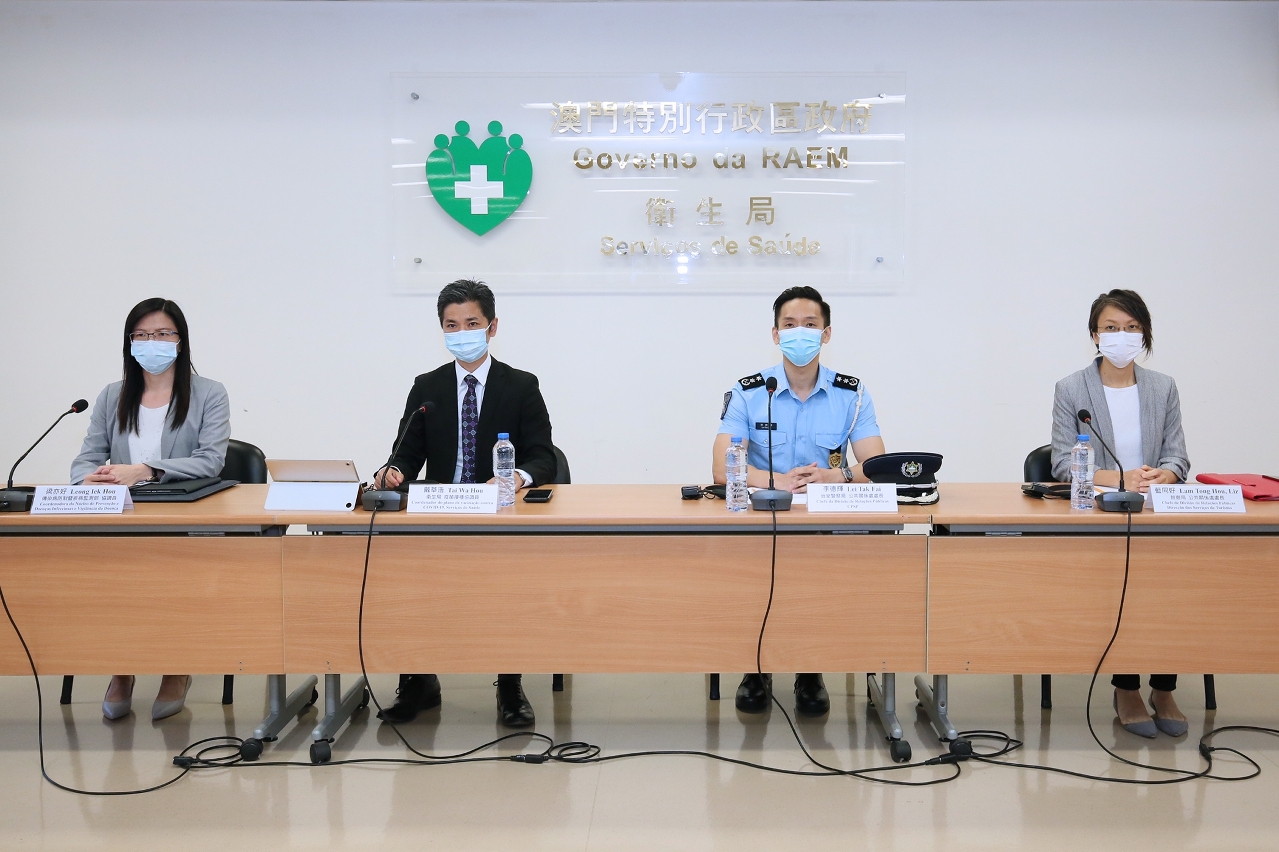 A regular press conference of the Novel Coronavirus Response and Coordination Centre.
The Government will set up a new COVID-19 vaccination point at the University Hospital, that will become operational on Monday (17 May). It will offer inoculations of the Sinopharm vaccine for a daily quota of up to 150 people.
Starting from 10am on Friday (14 May), Macao ID holders, non-resident workers and non-locals studying in a Macao higher education institution, will be able to make an online reservation in order to receive a shot of that vaccine at the new location.
The news was announced on Monday (10 May) during a regular press conference of the Novel Coronavirus Response and Coordination Centre.
The Government also had a plan to set up a community COVID-19 vaccination centre at the Macao Forum building, for a daily quota of up to 2,000 jabs, it was announced. The Government would review the local demand for vaccination, to assess whether it needed to increase the quota available at that venue.
In addition, it was said during the press conference that the Government was analysing the possibility of exempting those who had completed their two-dose vaccination process from needing to present valid nucleic acid test certification if wishing to attend selected Macao events. The test exemption period would begin 14 days after the second jab. Events covered by the exemption policy would include festivals, cultural and recreational gatherings, sports activities, and catering events with more than 400 participants. Further details on any such test exemption would be announced in a timely way.
As of Sunday (9 May), Macao had not recorded any COVID-19 community case (including asymptomatic cases) for 407 consecutive days, and no imported case for 33 consecutive days.
Macao had dealt with a total of 49 confirmed COVID-19 patients since the start of the pandemic. Of the aggregate, 47 cases were imported and two were categorised as infection related to imported cases. Macao has had zero COVID-19-related deaths and zero infections among medical staff.
In Macao, a citywide COVID-19 vaccination programme was launched on 9 February. As of 4pm on Monday (10 May), a total of 120,294 COVID-19 jabs had been administered. A total of 78,460 individuals in Macao was categorised as having received a vaccination against COVID-19. Of those, 36,471 people had received solely a first dose, and 41,989 had received two doses of vaccine.
During the 24 hours from 4pm on Sunday (9 May) to 4pm on Monday (10 May), the Health Bureau received six notifications about reactions related to vaccination. There was zero incidence of a serious adverse event and six instances involving a minor event.
Since the beginning of the vaccination programme and until 4pm on Monday, there had been 548 notifications about reaction to vaccination, including two instances of a serious adverse event and 546 cases of a minor event.
A vaccination appointment can be made via https://eservice.ssm.gov.mo/covidvacbook. For details of the vaccination programme, please refer to a dedicated webpage: https://www.ssm.gov.mo/apps1/covid19vaccine/en.aspx.
View gallery