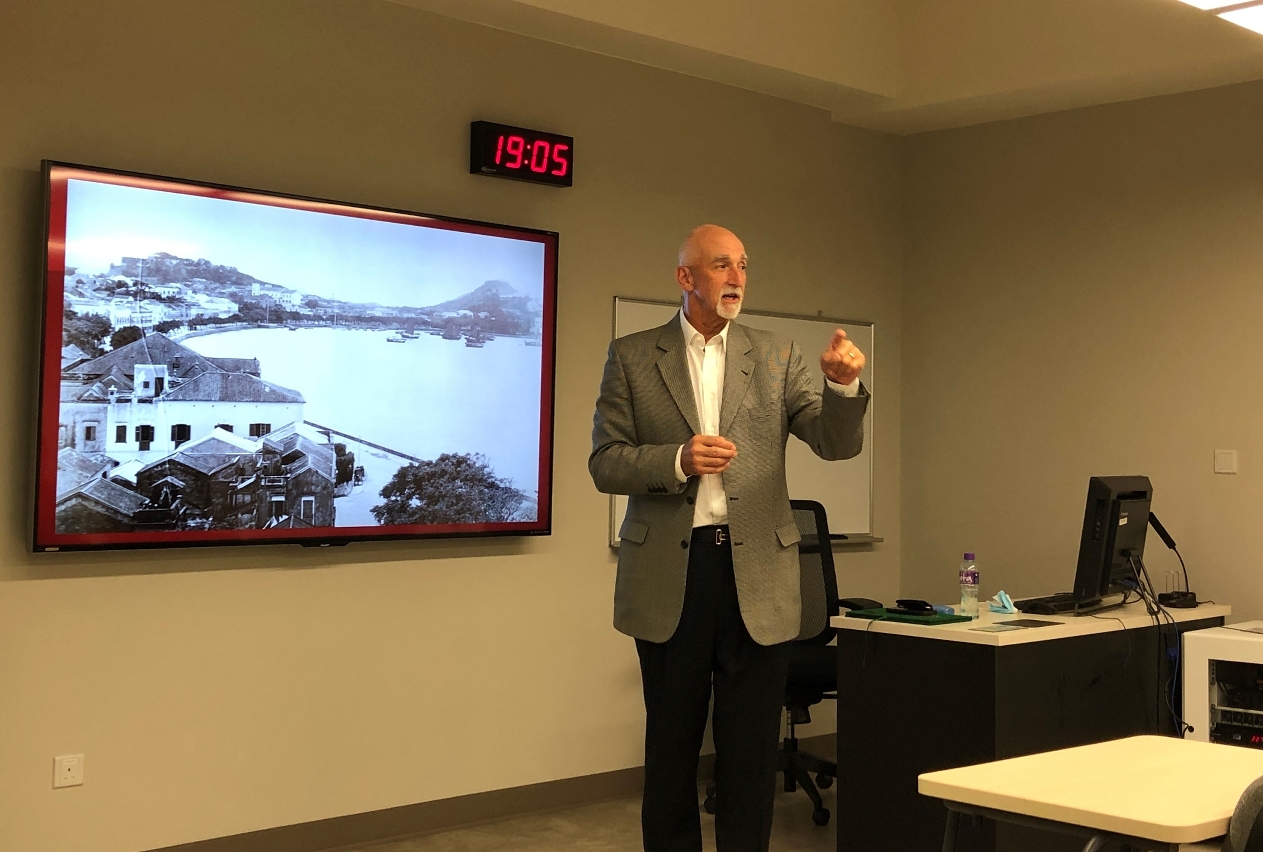 Mr. Grant Bowie talked about the success of the gaming industry in Macao
To cultivate the high-calibre talent for the gaming and recreation industry in Macao, the Centre for Gaming and Tourism Studies (CJT) of the Macao Polytechnic Institute (MPI) recently arranged three gaming leadership seminars for the students in the Master of Business Administration in Gaming Management programme. Leaders from the gaming industry were invited to give presentations based on their areas of expertise, and to share their experience, knowledge and skills. They are: Mr. Grant Bowie, a seasoned executive with rich experience in gaming, former CEO of MGM China; Mr. Raymond Lo, Senior Vice President, Property General Manager of Altira Macau & Mocha Clubs, Melco Resorts & Entertainment; and Mr. Benny Ho, Director of Cage, Sands China. These industry seminars were well received among the teachers and students at MPI.
Mr. Grant Bowie shared his experience and insight into the city's casino developments in his presentation titled "Integrated Resort Management: The Macao Experiment". He shared his insights on the development of integrated resorts in Macao based on his own experience, and discussed the challenges and prospects facing the development of integrated resorts in Macao and East Asia. In addition, human resource development for localization was emphasized for the sustainability of the city's gaming and tourism industry.
Mr. Raymond Lo introduced the critical role of data analytics for gaming and destination marketing. By analysing the relevant data, integrated resorts and casinos can optimize their business performance while offering the best customer experience. Mr. Lo also shared his experience of designing various marketing promotions in accordance with the government's strategy of developing Macao into a World Centre of Tourism and Leisure, as well as the city's unique Sino-Portuguese cultural characteristics.
Mr. Benny Ho explained to our students about the general process of cage operations in his presentation. Topics ranging from the functions of casino cage, cage security, gaming technology, and customer service were discussed with demonstrations. Moreover, Mr. Ho explained the anti-money laundering (AML) controls and the regulatory compliance such as the submission of large-sum transaction reports (ROVE) and suspicious transaction reports (STR).
View gallery