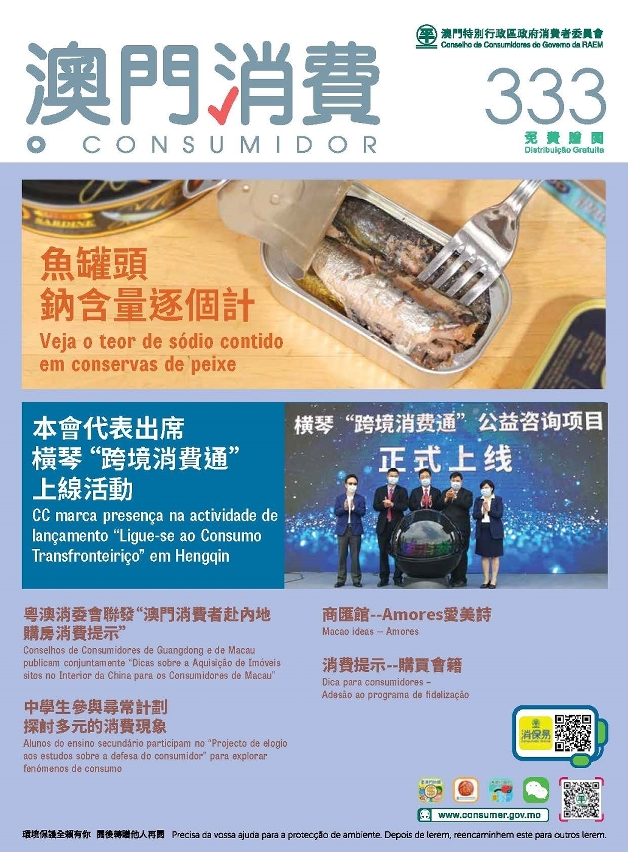 Consumer Report issue no. 333
The Consumer Council and Municipal Affairs Bureau co-tested 20 samples of canned fish products earlier and no malachite green was found in any of the samples. Details of the report is now published in the latest issue Consumer Report.
Malachite green is a kind of industrial dye used to treat fish diseases and may cause cancer in laboratory animals, it is also forbidden in many countries and regions to be used on animals. Selling of food products that contain malachite green is illegal in Macao and is subject to law punishment.
To ensure the health of consumers, the Consumer Council and Municipal Affairs Bureau (IAM) tested 20 samples of canned fish products, including sardine, tuna, mackerel, eel and dace, no malachite green was found in any of the samples.
Sodium contents in canned fish product
The current test also examines the sodium contents in canned fish products to remind consumers about the risk of getting cardiovascular disease if taking too much sodium in canned food. Consumers are suggested to pay attention to the sodium contained in processed food, and establish a healthy and balanced diet. Sodium contents of all samples can be found in the test report.
The IAM recommends consumers to purchase canned food products from shops with goodwill and avoid those that have expired, with broken seal, bulged or rusted cans.
"Consumer alert" on purchasing properties in Mainland
The latest Consumer Report includes the consumer alert on buying properties in mainland China for Macao consumers announced by Guangdong and Macao Consumer Councils. The article features on the principles of selling properties in the Mainland, the importance of "Five licenses", accessing authenticity of real estate advertisements, payments made via account transfers, non-refundable deposit, safeguarding personal data and retaining proof of purchase.
Risk of telemarketing membership
The latest magazine also features a consumer alert to remind consumers about the risk of falling into traps of telemarketing membership. Consumers should check the background details of the selling parties before making purchase and protect personal data, especially credit card details, during transactions.
Consumers may access the magazine on the Council's official website and WeChat official account. Consumer Report is also available free of charge at the Council (Av. Horta e Costa, N.º 26, Edf. Clementina Ho), and the service counter of the Council at Macao SAR Government Service Centre (Rua Nova da Areia Preta, Nº52), Public Information Centre at Vicky Plaza, libraries, and bookstores.
For enquiry, please call 8988 9315.
View gallery