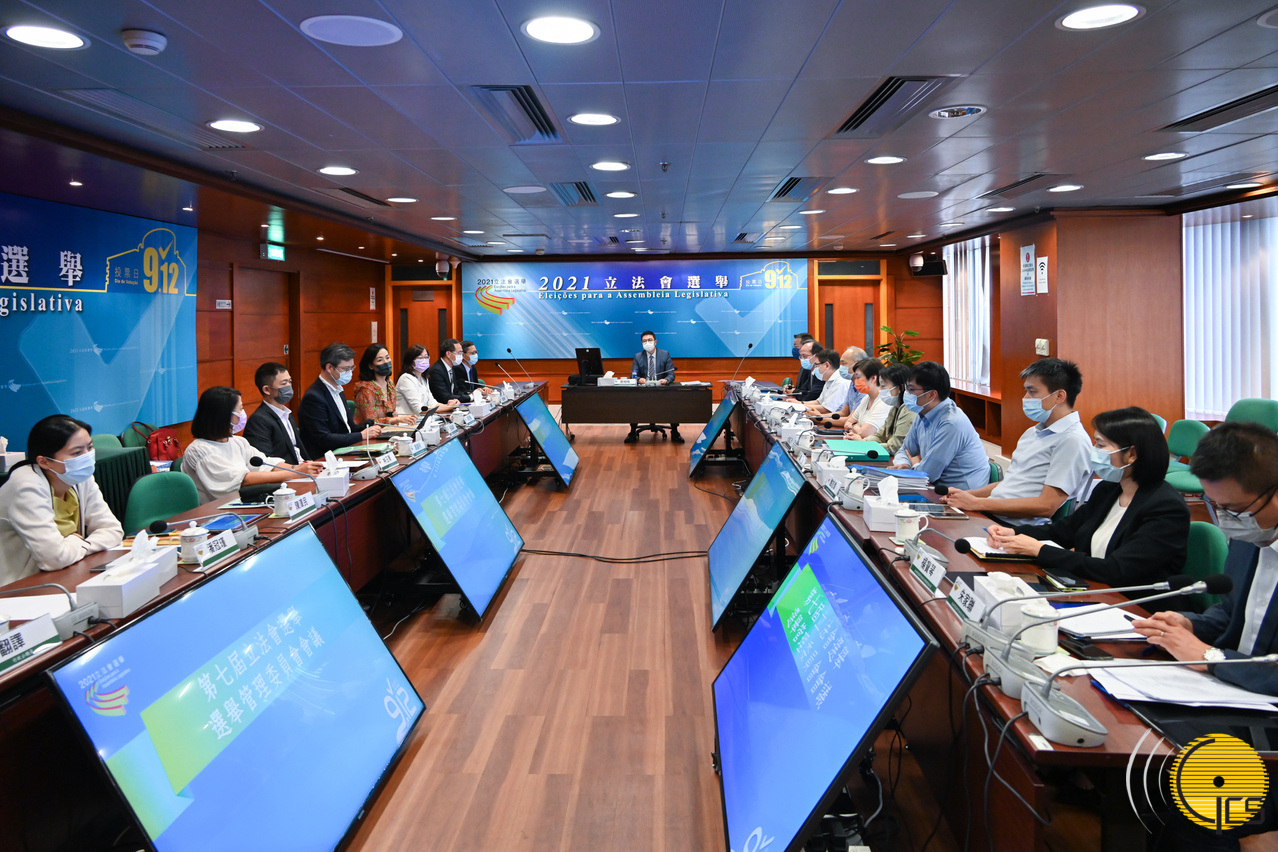 A meeting of the Electoral Affairs Commission for the Legislative Assembly Election.
The Electoral Affairs Commission for the Legislative Assembly Election has confirmed so far a total of 21 applications – 16 for the direct election process, and five under the indirect election – for establishment of nomination committees for the Legislative Assembly Election.
The Commission received an aggregate of 22 nomination committee applications and an additional five applications for the indirect election process, before the 15 June deadline for such applications.
Speaking to reporters today after a Commission meeting, the Commission Chairman, Mr Tong Hio Fong, said the legal status of 16 nomination committees for the direct election had so far been approved.
Of the aggregate applications submitted for the direct election, two had been withdrawn by the respective trustees. Three applications had to submit supporting documents, either due to insufficient volume of voter endorsement, or issues relating to names for the nomination committee or symbols intended to be used. One application had submitted some supporting documents, which would now be analysed by the Commission.
The Commission would make a decision on whether or not to accept the supporting documents from those concerned. According to the Legislative Assembly Election Law, the Commission had to decide by 24 June at the latest, regarding whether to certify or refuse to certify the legal status of any nomination committees, noted Mr Tong.
The legal status of the five nomination committees for the indirect election process had all been confirmed.
The Commission Chairman issued a reminder to those taking part in the indirect election. Legal-person voters (i.e., registered associations with voting power for the upcoming election) should submit to the Commission, on or before 29 July, their respective list of voters, i.e., those eligible to cast – on behalf of legal-person voters – ballots in the September polling. Each legal-person voter may nominate a maximum of 22 voters to vote on their behalf.
The Legislative Assembly Election Law stipulates that only political associations and nomination committees have the right to nominate candidate lists for the Legislative Assembly Election.
During the briefing, reporters said an association had given away goods to its members. The media representatives asked if that constituted illicit campaigning. Mr Tong said the Commission had received a complaint regarding that, but that at this stage it had not identified any link between such activity and illicit campaigning, said Mr Tong. Nonetheless, the complaint was forwarded to the Commission Against Corruption for follow up, he added.
Mr Tong issued a reminder that associations should understand the distinction between welfare activities for members, and election campaigning.
View gallery