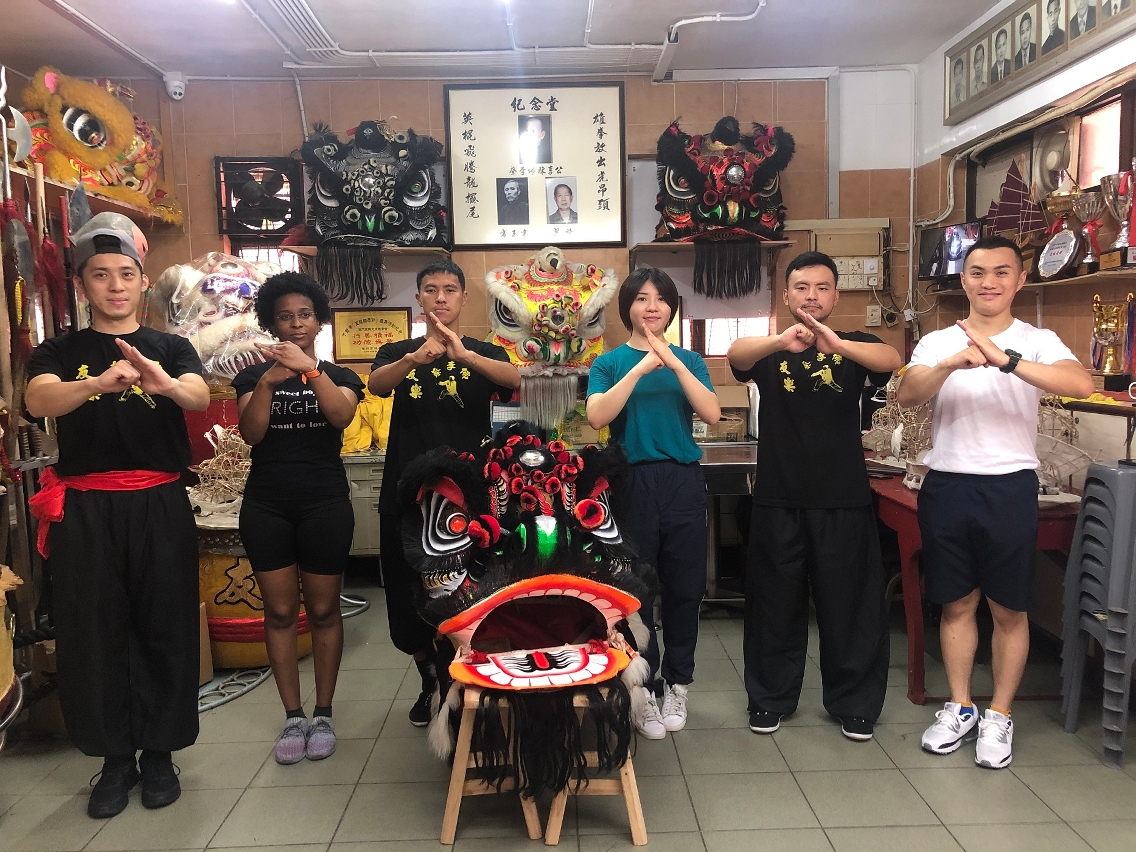 MPI students experience the culture of Chinese Lion Dance
In order to promote the Chinese traditional culture, and encourage students to develop diverse interests, the Student Affairs Office of the Macao Polytechnic Institute (MPI) has been organising activities to enhance students' Chinese traditional culture experience, such as experiencing the Chinese Lion Dance and Chinese Tea Art. These activities, one being dynamic and one being quiet, have enabled students to understand the long history of Chinese culture.
The Chinese Lion Dance experience activity was introduced by Mr Lam Ka Hei, an MPI alumnus from the Bachelor of Physical Education. In the activity, Mr Lam taught the students about the history of Chinese Lion Dance, demonstrated the techniques for Chinese Lion Dance and instructed students to practice it. Through these, students learned the traditional moves for Chinese Lion Dance, such as three prayers, waking up the lion (raising the lion, standard lions, seven stars), running around the platform, saluting, etc. As for the Chinese Tea Art experience activity, hosted by professional tea artist of Macao Tea Art Association, students got to know the long and traditional Chinese tea art culture. Through tea tasting, students could relax their body and spirit, which further enhanced promoting their physical and mental health.
The activity attracted many students from different programmes and cultural backgrounds to gather together and experience the essence of Chinese culture. Mr Ho, a student of the Chinese-Portuguese Translation and Interpretation programme, said that the activity has allowed him to feel the unique charm of the lion dance culture. He learned that lion art represents a spirit, in which the artist and the lion have to be united in one to represent the most vivid movements. Many of the international students revealed much interest in the Chinese traditional culture, and joined the activity. Rivaldo Tavares, a Cape Verde student of the International Chinese Language Education programme, said he had much interest in the Chinese Tea Art experience activity. It increased his knowledge of the history of China and Chinese traditional culture. When he returns home, he wishes to share the depth of Chinese tea art with his family.
Macao Polytechnic Institute practises the school philosophy "love for the motherland and Macao, rooted in Macao, serve the society, face the world". MPI has always committed to cultivating students' sense of patriotism. This year, the Student Affairs Office has launched the "Chinese Cultural Exploration" programme to enhance students' Chinese traditional culture experience; a series of activities are held to demonstrate to students the infinite charm of a combination of dynamic and quiet traditional Chinese culture, so as to strengthen students' patriotic concepts and feelings of home and country, and to contribute to the future development of Macao and China.
View gallery