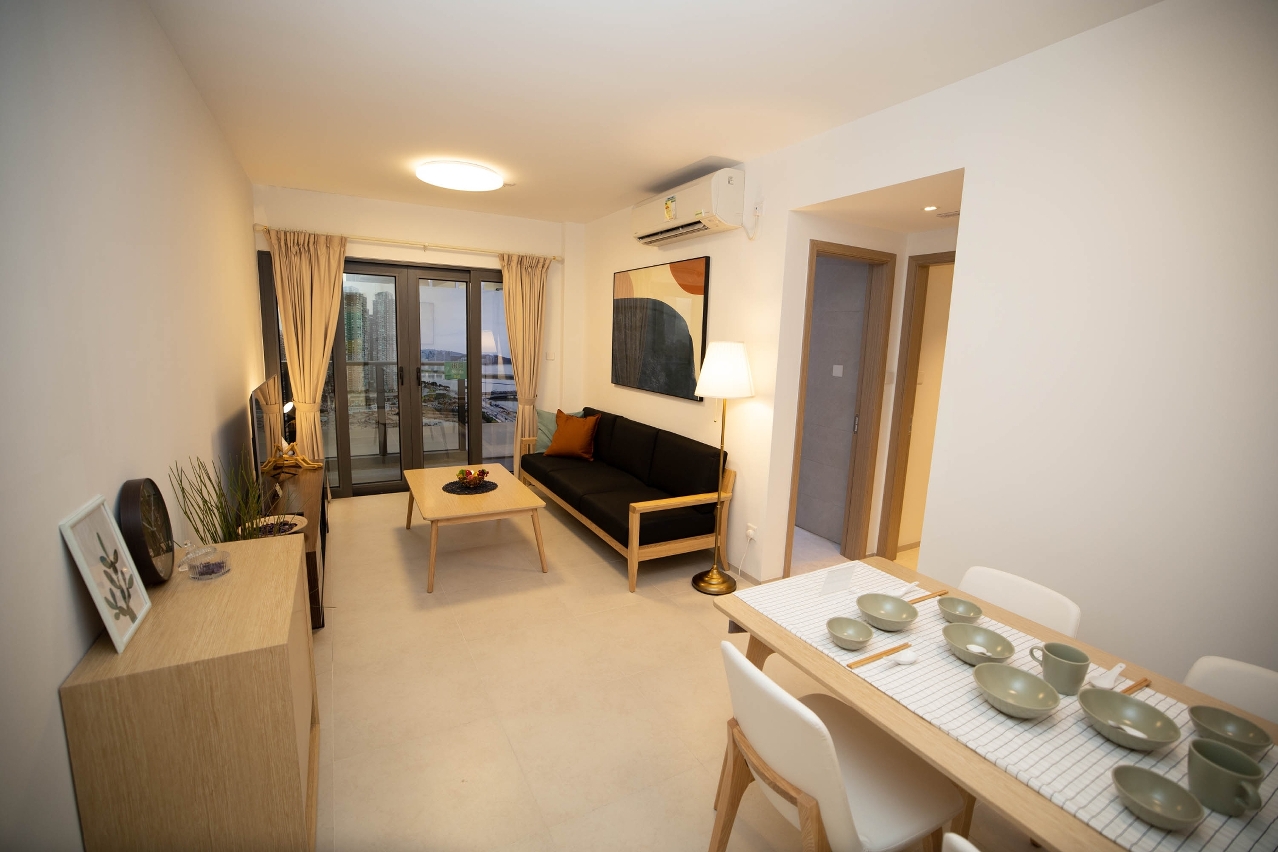 Living/Dining room
Show flats for temporary housing on Lot P are open for viewing
An exhibition about Areia Preta's Lot P temporary housing project will be open to the public on Tuesday 13 July. Visitors will be guided through the exhibition that includes show flats to better understand the master plan of temporary housing and the design of the units. Visitors can now book for a guided tour by logging onto Macau Urban Renewal Limited's (MUR) website or by scanning a QR code.
As an executing entity to promote urban renewal in Macau, Law No. 8/2019Legal Framework for the Provision of Temporary Housing and Home Swap Housing under the Urban Renewal Schemespecifies that MUR is responsible for the construction of temporary housing units, which allow property owners affected by urban renewal to rent as temporary accommodation when their buildings are being redeveloped.
The construction of the above-mentioned Lot P temporary housing units follows standards in the private sector. The project will comprise eight temporary housing towers of 37 to 50 storeys high, providing a total of 2,803 temporary housing units, and about 1,100 parking spaces for cars and about 590 for motorcycles. The project will feature a diverse range of recreational and leisure facilities, including recreational and sports zone in both outdoor and covered areas, children's playgrounds, promenades, in addition to lawn and plants with a greenery coverage of over 50 percent.
For residents' convenience, the project will also feature commercial areas, a public transport interchange, two public roads, pedestrian streets and a footbridge to connect to nearby communities. The pedestrian streets will also function as an emergency passageway for fire engines and ventilation corridors. The whole project is expected to be completed by the end of 2024.
The exhibition includes two parts, the first part is a detailed presentation of the master plan of the temporary housing project through display boards and videos, and the second part is a viewing of a one-bedroom and two-bedroom show flat.For epidemic prevention and to ensure a good visitor experience, visitors need to book their visit in advance.
The online booking system is accessible by logging onto MUR's website ( https://www.mur.com.mo ) or by scanning the QR Code. The booking service provides individual and group visits. An individual visitor can bring along a family member or friend for the visit and group visits are limited to 12 persons per timeslot. The guided tour is about 30 minutes long. Visitors simply need to fill out a form and select the day and time for their visit. Visitors will receive an SMS to confirm their booking and show the SMS upon entering the exhibition hall. Visitors will also need to comply with the epidemic prevention measures in place.
The Temporary Housing Exhibition Hall is located on the 3rdfloor of Mong Ha Social Housing – Edifício Mong Tak in Rua de Francisco Xavier Pereira. It will be open to the public from July 13 (Tue). It is open Tuesday to Sunday, from 11 a.m. to 8 p.m., and closed on Mondays and public holidays.
Moreover, guided tours for show flats viewing especially for Iao Hon Estate residents will be held on 16 July (Fri), 17 July (Sat), 23 July (Fri) and 24 July (Sat) between 11 a.m. and 3 p.m., with the aim of giving an in-depth presentation of temporary housing to people involved in the relevant urban renewal project. Iao Hon Estate residents who are interested in joining the guided tour, please register by calling 2888 2263 during MUR's office hours, from Monday to Friday from 9 a.m. to 1 p.m., 2.30 p.m. to 6 p.m., and Saturday from 9 a.m. to 1 p.m.
View gallery