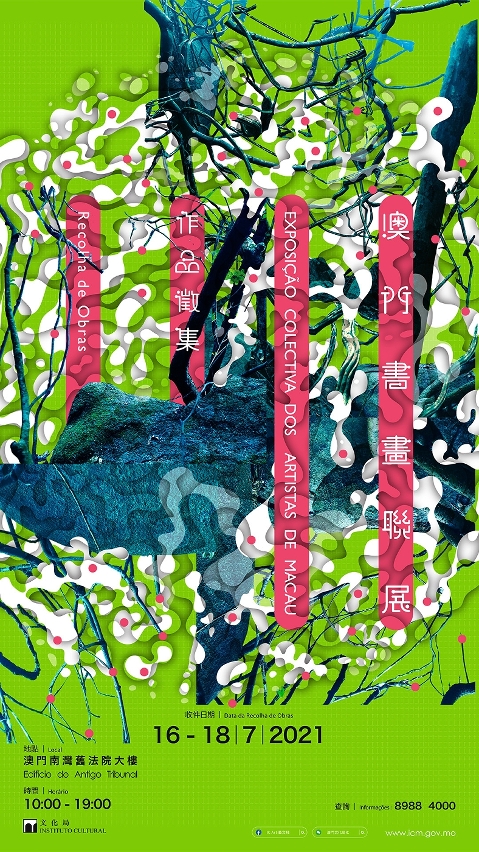 Submission of Works for the "Collective Exhibition of Macao Artists" ends on 18 July
The "Collective Exhibition of Macao Artists", organized by the Cultural Affairs Bureau (IC, from the Portuguese acronym), accepts applications until 18 July (Sunday). All interested Macao artists and art lovers are welcome to take this opportunity to submit their works before the deadline.
Applicants can submit completed and signed application forms, copies of identification documents and their works at the Old Court Building (Avenida da Praia Grande) from 10am to 7pm (open during lunch hour). Applicants must submit one application form for each piece/set of works. If there are more than one piece/set of works, each piece/set requires the submission of a corresponding application form.
The "Collective Exhibition of Macao Artists" accepts submission of various types of Chinese artworks, including Chinese painting, calligraphy, seal engraving, modern ink painting and works from related creative categories. Applicants must hold a Permanent or Non-permanent Resident Identity Card. Each can submit a maximum of three pieces/sets, and for those in the form of a series, each set can contain a maximum of four pieces. Various awards will be granted in the event. The organizer will invite professionals from different regions to form a jury panel to review the artworks. The date of the evaluation by the jury will be announced later and the exhibition is scheduled to be held in the middle of the following year.
The respective regulations and application forms can be obtained at the Cultural Affairs Bureau Building located at the Tap Siac Square, Ilha Verde Library, Wong Ieng Kuan Library in Areia Preta Urban Park, Taipa Library and Macao Museum of Art, or downloaded from the Cultural Affairs Bureau website at www.icm.gov.mo.
The Cultural Affairs Bureau will continue to pay close attention to the development of the pandemic, follow the relevant guidelines of the Health Bureau and implement appropriate measures for cultural activities.
For enquiries, please contact IC through tel. no. 8988 4000 during office hours.
View gallery