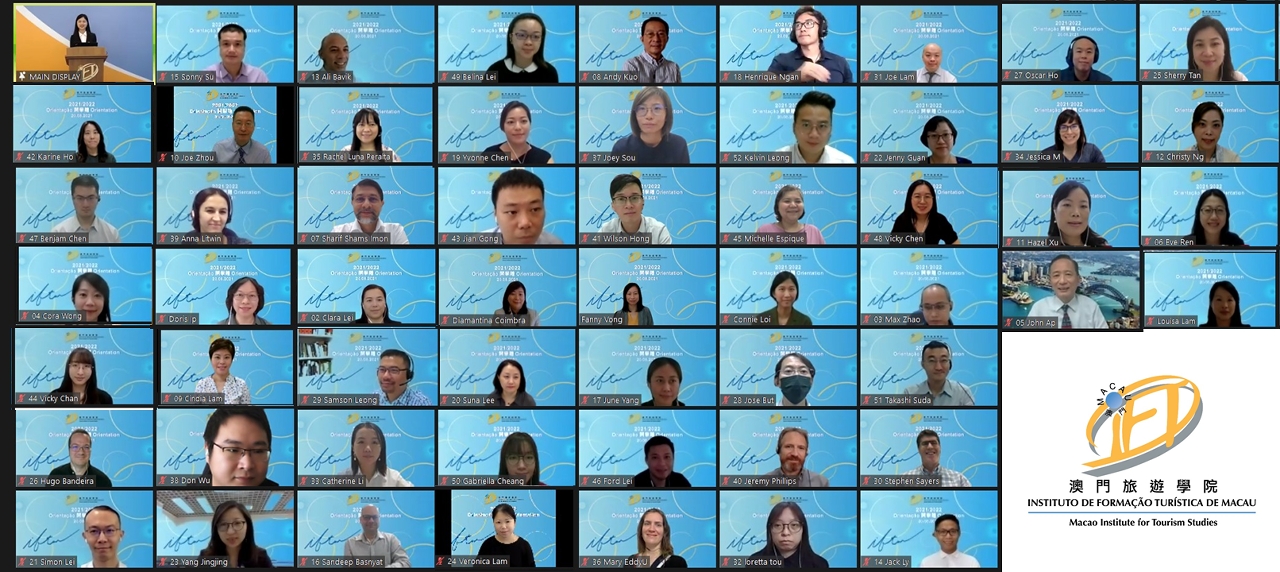 IFTM 2021/2022 Student Orientation Ceremony
As a precautionary measure against the risk of COVID-19 infection, the Macao Institute for Tourism Studies (IFTM) held its IFTM 2021/2022 Student Orientation Ceremony in online format, on 20 August. A video of a national flag raising ceremony was played as part of the event.
During the Student Orientation Ceremony, IFTM President Dr. Fanny Vong Chuk Kwan offered her warmest greetings to the 490 new students enrolled with the Institute. She encouraged those starting their higher education journey amid the COVID-19 pandemic to display a strong sense of responsibility and mission. In the meantime, the Institute would strive to continue improving the education it provides, in order for students to be thoroughly equipped to seize the opportunities and overcome the challenges brought by the 'Internet + tourism' model.
During her speech, Dr. Vong stated that the world economy – and particularly the tourism sector – was undergoing significant and rapid transformation, triggered by the pandemic. In this context, the 'Internet +' paradigm had become a key factor to drive recovery in the tourism industry. Empowered by digital technology, concepts such as 'smart tourism', 'smart retailing' and 'smart hotel' had the ability to promote the sector's resilience, she said.
Aiming to stay up to date with the latest changes in terms of industry development models, and to keep pace with the times, IFTM recently launched an "iRetail Lab" facility. It is a training platform for practical education in the fields of retailing and marketing management. The Institute also has been preparing a new postgraduate programme in smart technologies relating to hospitality and tourism, and a number of Bachelor's Degree Programmes are being enhanced. The overall goal is to provide students with the latest knowledge and innovative skills, to enable them in the future to rise above the competition in the labour market.
In the new academic year, the Institute is welcoming the first intake for the revamped Heritage Management Bachelor's Degree Programme. In addition to acquiring cultural heritage conservation knowledge, students will study elements in the field of cultural and creative industries. The aim is to enable them to broaden their horizons and widen their career options. IFTM is also launching this academic year a postgraduate programme leading to a Master of Science in International Gastronomy Management, aiming to nurture highly skilled talent for Macao, a UNESCO Creative City of Gastronomy.
IFTM's continuous pursuit of excellence in education – since its establishment 26 years ago – is widely recognised. IFTM received from the Pacific Asia Travel Association (PATA) the Gold Award in Education and Training in 1997 and 2002. In 2020, IFTM's Tourism Education Student Summit was awarded PATA's Gold Award for Human Capital Development. This was in recognition ofthe Summit's role as a platform for students to present original academic papers and share findings from their own research, in a showcase of the Institute's contribution to cultivating professionals for the tourism field.
IFTM also has been busy expanding its global network of partners. It has links with more than 100 higher education institutions and other tourism-related organisations from around the world. In addition, the Institute has established strong ties with more than 600 leading tourism and hospitality corporations, to offer internship opportunities to its students. IFTM provides training programmes in cooperation with the World Tourism Organization (UNWTO), to help tourism officials and professionals from around the world enhance their knowledge and skills. Since 2019, following the launch ceremony for the Tourism Education and Training Base for the Guangdong-Hong Kong-Macao Greater Bay Area, based at IFTM, collaboration centres have been established in several cities – including Zhuhai, Guangzhou and Foshan – as part of effort to raise the standards of tourism professionals within the Greater Bay Area, as well as to promote international exchanges and interactions in the sector.
As a Macao-based public higher education institution, IFTM will continue to cultivate talent – equipped with professional knowledge and skills – for the local tourism industry, while adopting a pioneering spirit in exploring new opportunities and expanding the scope of IFTM's work.
View gallery