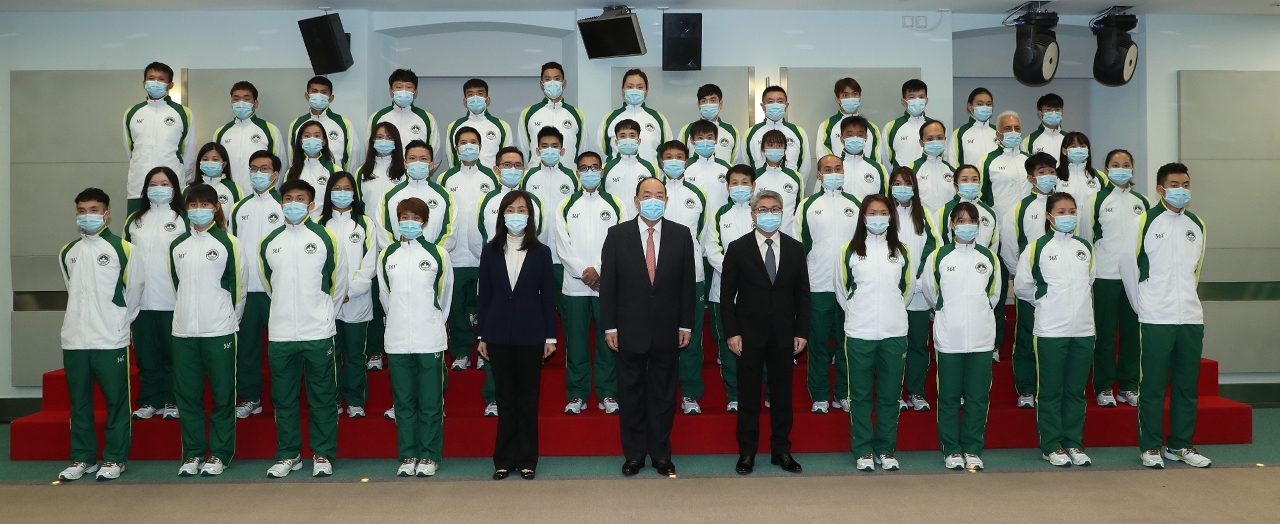 The Chief Executive, Mr Ho Iat Seng, poses for a group photograph with the Macao sport delegation attending the 14th National Games of China.
The Chief Executive, Mr Ho Iat Seng, offered his encouragement to the Macao delegation attending the 14th National Games of China, urging the athletes to perform at their highest level, and to strive for good results. Such effort would herald the joint organisation – by Guangdong, Hong Kong, and Macao – of the next edition of the Games, in 2025.
The Chief Executive spoke on Monday (30 August) during a farewell ceremony at the Government Headquarters, before the Macao delegation set off for Shaanxi Province. During the ceremony, Mr Ho presented a flag of the Macao Special Administrative Region to the head of the delegation, Ms Ao Ieong U, the Secretary for Social Affairs and Culture.
Mr Ho issued a reminder that members of the delegation should follow closely anti-epidemic measures and requirements in place for the National Games. Health always came first. Members of the delegation would be also required – on their return to Macao – to comply with local epidemic control and prevention effort, added Mr Ho.
Macao has sent a 154-strong delegation to Shaanxi for the Games. Macao athletes will take part in an aggregate of 17 events, including: water sports (i.e., swimming, synchronised swimming, and diving); cycling (i.e., road and track); triathlon; beach volleyball; table tennis; badminton; tennis; karate-do; judo; taekwondo; fencing; boxing; wushu (taolu and sanda formats); shooting; canoeing; and sailing (i.e., RS:X windsurfing, and Laser-class dinghy).
The Macao athletes are due to travel to Shaanxi on various dates, depending on the schedule of the sport in which they are competing at the Games.
The 14th National Games imposes a set of stringent anti-epidemic measures, including the adoption of a 'closed-loop' system of public health management. Macao's sporting delegation has adhered attentively to all the required measures. Every member will have completed the two-dose vaccination process before arriving Shaanxi. Each of them will also have been monitoring every day their own body temperature and will have completed a relevant health declaration. Each member will also have undergone a nucleic acid test, conducted, respectively, 14 days, seven days, and 48 hours before departure from Macao. After arriving in Shaanxi, athletes are also required to have a nucleic acid test every three days.
View gallery