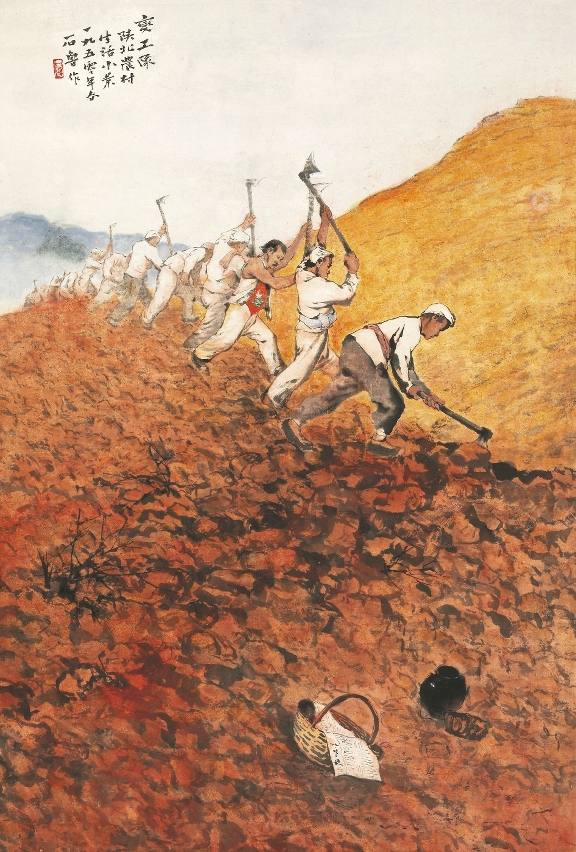 The work "Labour-exchange Team – Scene of Rural Life in Northern Shaanxi" reflects Shi Lu's creative principle of "starting from real materials in life", extolling the hard-working people on construction sites.
The exhibition "Bold Spirit: Works of Shi Lu from the Collection of the National Museum of China" will be held from 18 September 2021, on the fourth floor of the Macao Museum of Art. The exhibition is divided into four sections, namely "Revolutionary Epic", "Praise of the New Era", "Chang'an New Painting" and "Strength of Character", featuring over 150 outstanding works by Shi Lu, a renowned painter of the Chang'an Painting School, including ink wash paintings, prints, oil paintings, and calligraphies, supplemented by relevant historical materials, documents and pictures, showing the change and innovation of the theme of his works and the formation of his distinctive style.
Shi Lu (1919–1982), a native of Renshou County in Sichuan Province, is the adopted pseudonym of Feng Yaheng, because of his admiration for Shi Tao and Lu Xun. As one of the 20th century artists with the greatest contemporary spirit and avant-garde vision in the history of Chinese art, Shi Lu devoted his life to the inheritance, innovation and development of national art, and advocated the artistic principle of "learning from tradition on the one hand, and learning from life on the other", incorporating the scenery of the Loess Plateau and the customs of northern Shaanxi into his paintings. By developing his own style in landscape painting, portraits, bird-and-flower painting, calligraphy, seal carving, poetry, and literature and art theory, he created and promoted one of the most important schools of modern Chinese painting – Chang'an Painting School. Shi Lu led his life exactly as he said: "I believe the intention of the painter is to represent the times." Through this exhibition, the audience can learn his unique artistic style in the history of modern Chinese art, and experience the spirit of an era from an artistic perspective, not to be missed.
Jointly organized by the Macao Museum of Art, under the auspices of the Cultural Affairs Bureau, and the National Museum of China, co-organized by the Macao Foundation, and supported by the Macao Daily News, the exhibition "Bold Spirit: Works of Shi Lu from the Collection of the National Museum of China" is held from 18 September to 2 November. The Macao Museum of Art is open daily from 10am to 7pm (no admission after 6:30pm), including public holidays, and is closed on Mondays. Admission is free. For more details, please visit the website at www.MAM.gov.mo.
To protect the public's health, crowd control measures will be implemented at all cultural venues. Visitors must wear face masks, undergo body temperature checks, and present a valid "Macao Health Code" of the day upon entry.
View gallery