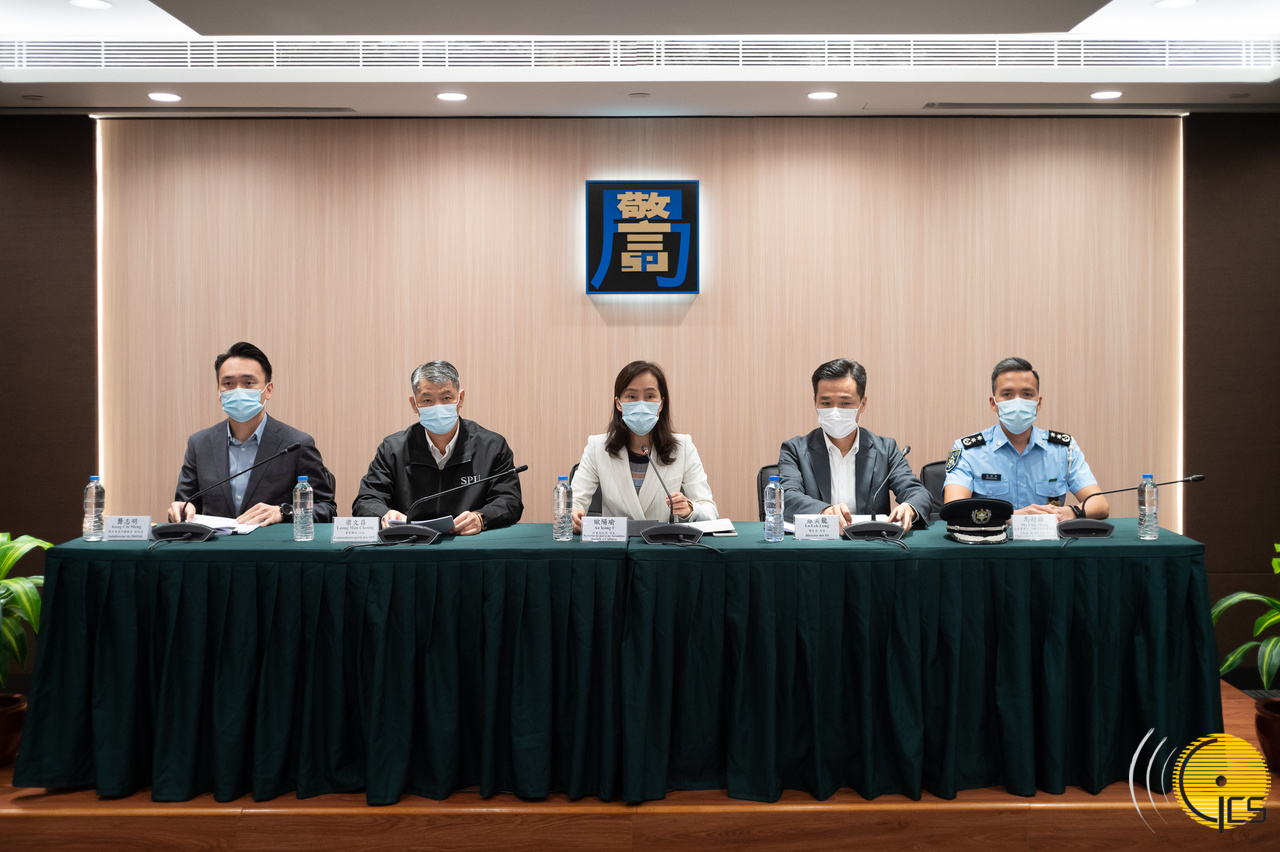 The Novel Coronavirus Response and Coordination Centre holds a press conference to give updates on the latest epidemic-related developments.
The Government has taken immediate steps regarding a series of measures to prevent or if necessary control any COVID-19 outbreak in the community, with the aim of maximising for the Macao public protection of life and property.
The Secretary for Social Affairs and Culture, Ms Ao Ieong U, gave the assurance today, during a press conference held by the Novel Coronavirus Response and Coordination Centre.
Macao entered a state of immediate prevention, with effect from midnight today, following identification of two new confirmed COVID-19 cases respectively on 24 and 25 September, linked to an imported COVID-19 infection. The two cases are the 65th and 66th cases recorded in Macao since the early stages of the pandemic alert in 2020.
Following the new cases, a second programme of citywide nucleic acid testing has been launched. It started at 3pm today (25 September) and will run until 3pm on Tuesday (28 September). Every member of the public is required to take a test during the period. They can do so in any one of an aggregate 52 testing stations available across the city.
The Government has implemented its district- and risk-specific epidemic prevention plan. Areas and buildings sealed off to the general public as prevention and control zones – i.e., places at or near where the people involved in the 65th and 66th cases were living – are: Edf. Tak Lei and Edf. Veng Hoi in Rua da Palmeira; and Rua da Palmeira no. 35; and Blocks C and D of Edf. Palácio, in Avenida de Horta e Costa. Closed-loop management protocols are being practised in those locations.
Via epidemiological investigation, the Government has been tracing any people either in close contact with the patients, or that had secondary contact.
The Secretary urged the public to cooperate with the Government measures; to avoid going out; and if possible, to avoid leaving Macao. Members of the public were advised to observe closely anti-epidemic measures, and practise good personal disease-prevention measures, including the wearing of a protective face mask.
Members of the public were also advised to pay close attention to news issued by the Government. Under the immediate prevention alert, anyone deliberately either fabricating or disseminating false information, in order to create public panic or disorder, might bear criminal responsibility as specified in Article 26 of the Civil Protection Law.
The city's 65th case involves a 27-year-old Nepali male, working as a non-resident worker in Macao. He is a security guard at Golden Crown China Hotel, one of the places designated for medical observation. He lives at Rua da Palmeira no. 31, Edf. Tak Lei, 4/B.
The 66th case involves a 32-year-old Nepali male, a co-worker of the person in the 65th case. He lives at Avenida de Horta e Costa, Edf. Palácio, 3/C.
View gallery