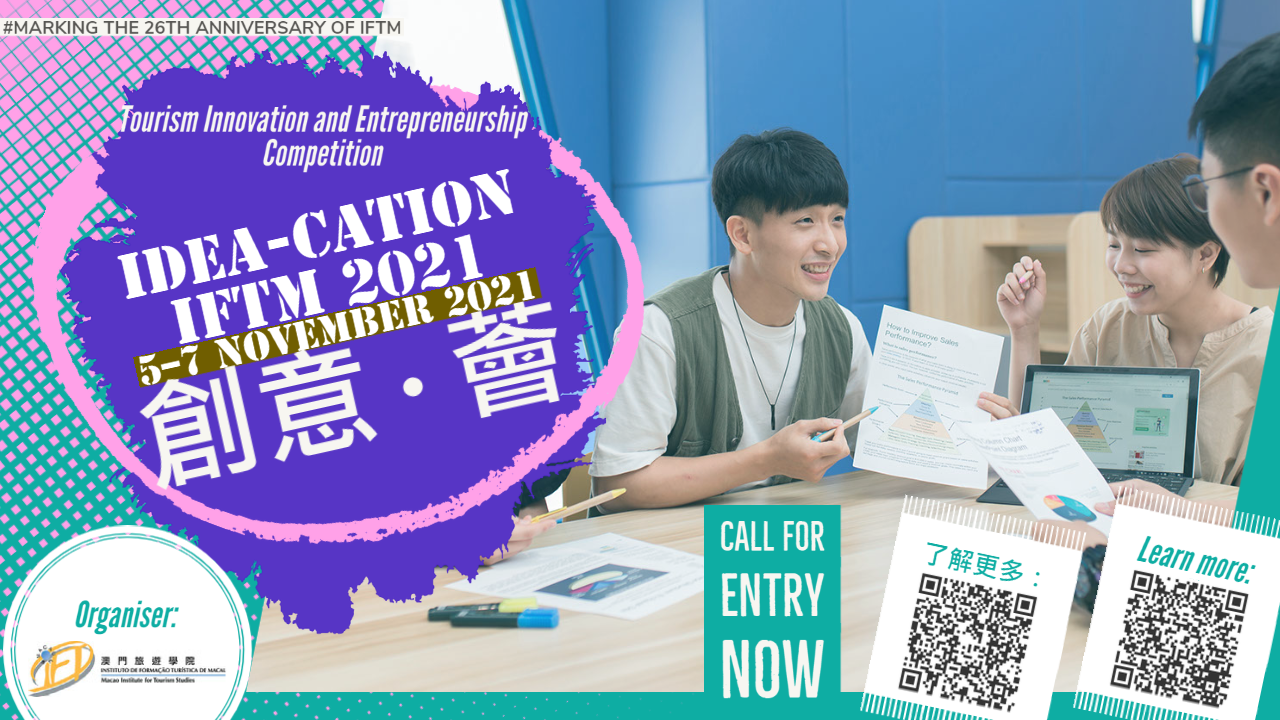 IFTM hosts Tourism Innovation and Entrepreneurship Competition "Idea-cation @ IFTM 2021"
To catalyse wider technology adoption in the digital economy era, the Idea-cation @ IFTM 2021 is launched on November 5-7 to elicit novel technological solutions to address business challenges and opportunities arisen from the "Tourism+" initiative.
Idea-cation @ IFTM aims to seek innovative and viable solutions tailored for our industries (e.g. tourism, hospitality, F&B, MICE, retail). Through this three-day-two-night (3D2N) on-campus event, participants will be meeting new friends, pitching their innovative ideas, and having great fun while gaining new insights from industry/academic experts. Mentors will be assigned to individual teams for furnishing ideas and boosting teams' competence level. Guest speakers will also be invited to share their insights on business innovation.
Finalist teams are expected to participate fully in this 3D2N idea-cation to flesh out their initial proposal into a more concrete plan. Finalist teams will then pitch their ideas on the last day with selected visuals which can come in a variety of formats. Judges will evaluate both the pitching performance and the visuals to determine the Champion, 1st Runner-up and 2nd Runner-up.
Besides winning up to MOP10,000 cash prizes, winning teams will also be awarded access pass to our newly established "IFTM Ideation Lab", among other great prizes. Application deadline is October 15. More details about the event can be found at https://www2.ift.edu.mo/ideacation/index.php/details
This activity is also one of the key events to celebrate the 26th anniversary of IFTM.
View gallery