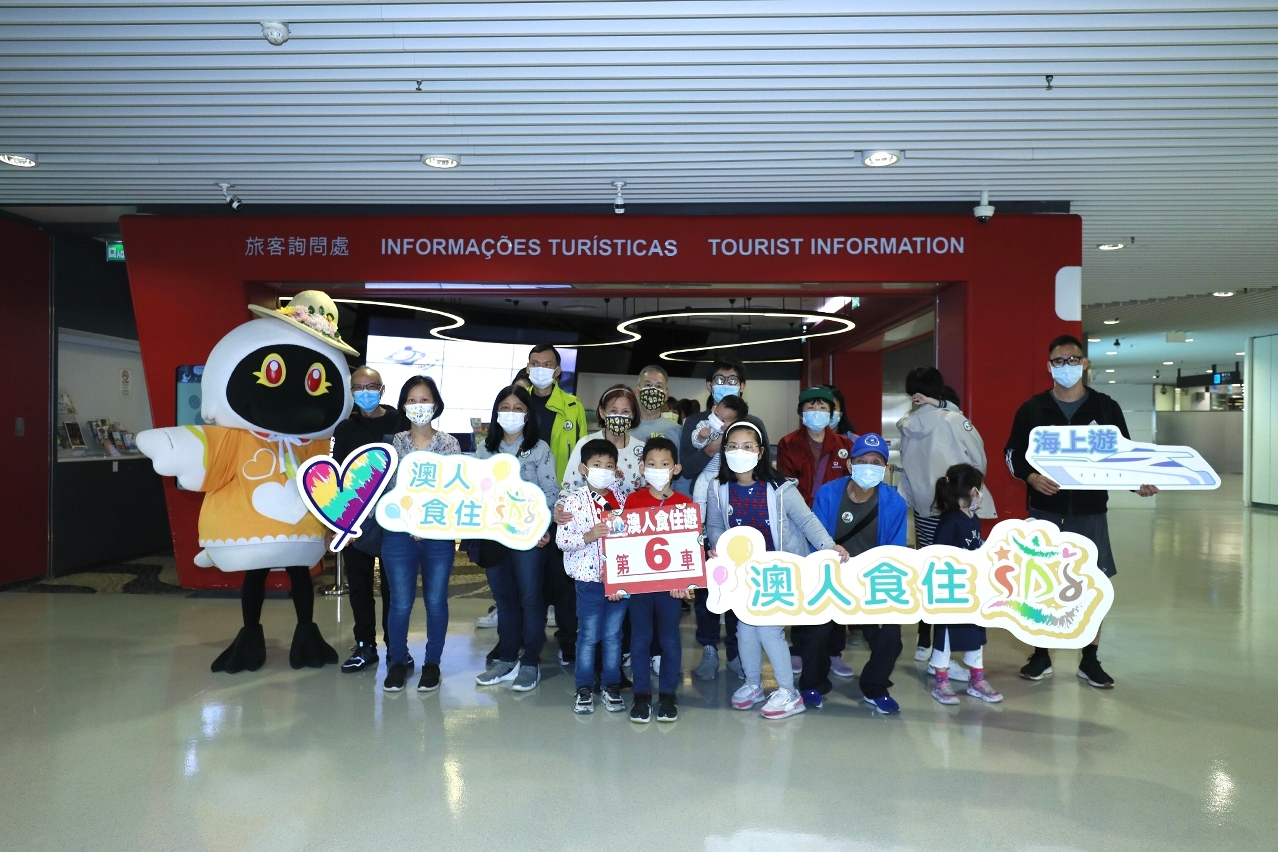 "Stay, Dine and See Macao" local tours resume today
【DST】"Stay, Dine and See Macao" local tours resume again today (23 October)
As the pandemic situation becomes stable in Macao, the "Stay, Dine and See Macao" project resumed operation of local tours from today (23 October). On the first day of resumption, which fell upon the weekend, about 230 participants in six groups set off for local tours. Many residents chose to explore Macao by joining the local tours. On the first day of resumption, participants enjoyed local tours teeming with different highlights such as visit to the Cotai District, enjoying the music fountain show, visit to the Macao Tower, buffet dinner on maritime tour, as well as exploring the history of Macao and Macau Grand Prix.
Due to the earlier pandemic situation, the "Stay, Dine and See Macao" project twice suspended operation of local tours from 4 August until 17 September and from 25 September to 22 October. Local tours set off again starting from today (23 October).
With the "Stay, Dine and see Macao" project" unfolded since 15 April until now, a total of 28,633 individuals have signed up for local tours and 25,481 individuals have participated in the tours, while 21,131 hotel packages have been sold, involving 53,589 overnight guests. The "Stay, Dine and See Macao" project will run until the end of 2021. Every permanent or non-permanent Macao SAR resident is entitled to a one-time subsidy for each of both categories – local tour and hotel staycation under the project. Visitors to Macao are also welcome to join the tours at full price.
Local tours will run until end of 2021 with daily itineraries
At present, there are 12 local tour itineraries with some available on weekends and public holidays while others running from Monday to Friday nights, besides certain daily-run itineraries, to suit the varying interest and time preference of different people.
"Experience Macao by sea, land and air" remains one of the most popular itineraries among Macao residents, which includes maritime tour with buffet on ferry, enjoying panoramic view of the city at Macau Tower and sighting bus tour around Cotai District. Other itineraries include: explore Nossa Senhora Village of Ká Hó; VR experience/encounter with celebrities + visit the Motorbike Gallery + Portuguese egg tart DIY experience; explore the history of Macao and Macau Grand Prix; explore Coloane Karting Track and enjoy the nature at Seac Pai Van Park; visit Macao Science Center and learn about life of legendary figures; experience ZIPCITY or GoAirborne and visit the Taipa Houses, among other highlights. Show lovers can also opt for the itinerary which includes the mega ethnic dance drama show "MGM Awakening Lion" and visit to the Taipa Old Village (setting off on 20, 21, 24 and 25 December), to enjoy leisure entertainment on festive holidays. Moreover, the itineraries are planned to incorporate the experience of Macao Light Festival and Light up Macao Drone Gala, as well as community tourism activities and so forth.
Continuous compliance with pandemic prevention guidelines
Local tours under the "Stay, Dine and See Macao" project will be operated in strict compliance with the Health Bureau's guidelines on pandemic prevention, including the requirements for participants to wear masks, have the temperature checked and present Macao Health Code, among other measures, whereas holders of Macao Health Code in Red or Yellow Colour are not allowed to participate in the local tours.
MGTO will continue to pay close attention to the latest situation of the COVID-19 pandemic while making prompt and appropriate arrangements for all the activities in accord with the guidelines issued by Health Bureau. In case of adverse weather conditions, residents who have signed up for the project are advised to stay tuned to the latest activity arrangements.
Tours can be signed up at special counters and travel agencies
Interested individuals can sign up for the local tours through travel agencies under the project or the special information counters at six local hotels and integrated resorts.For details about enrollment for local tours and hotel experience under the project as well as information about various travel agencies concerned, please visit the designated website:https://www.macaotourism.gov.mo/en/article/subsidies/macao-tour-hotel. The six information counters are set up at the following locations: Grande Praça of MGM Macau, Business Center of Wynn Palace, Lobby of Studio City, Lobby of Grand Lisboa, ground floor (near Tastes of Asia) of Galaxy Macau and West Lobby of The Venetian Macao. The opening hours are 10:00 — 13:00 and 14:00 — 19:00 daily. For other enquiries, please dial 8396 3052/2838 9153 between 9 a.m. and 7 p.m. daily.
View gallery