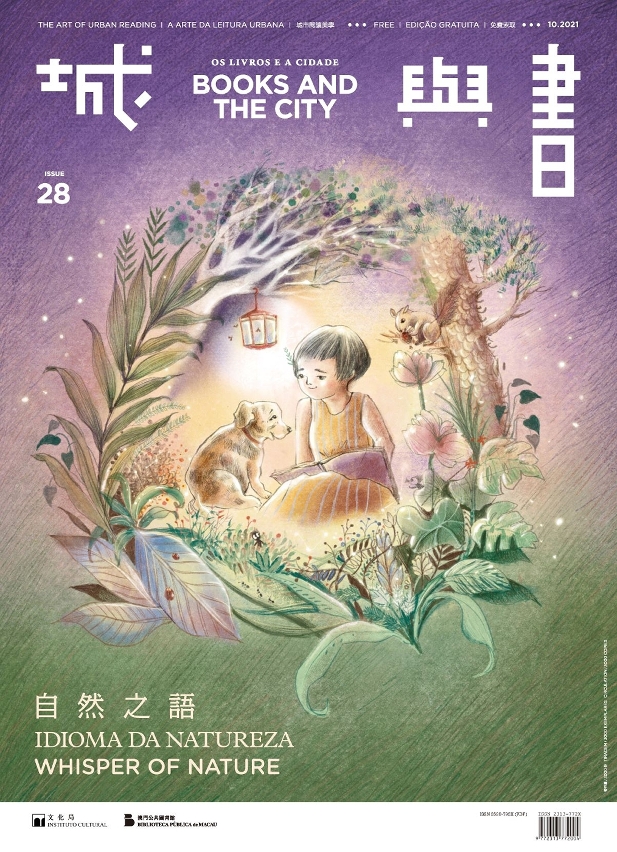 The 28th issue of Books and the City published by the Macao Public Library under the Cultural Affairs Bureau
The 28th issue of Books and the City, published by the Macao Public Library under the Cultural Affairs Bureau, is now available to the public. This issue explores the theme "Whisper of Nature", enabling readers to embrace nature through words. In the authors' writing, readers will be led to the jungles and mountains to appreciate the lush greenness and to the wilderness and grassland to learn the rules of survival and admire the beauty of nature, flowers, plants, insects and birds.
In this issue, the "Library Portrait" interviewed Education and Exhibits Controller of the Macao Science Centre (MSC) Oscar Leong, and Officer (Education) Nicole Wong to reveal how the MSC and the Macao Public Library perfectly work together to hold promotional campaigns that are very popular among all ages; the "Library Handbook" focuses on the thematic exhibition "Stimulating Taste Buds" which can trigger an online and offline interaction of the participants; the "Library Wonder Why" explains how to apply for the electronic library card; and the "Author's Say" brings the untold story behind local Portuguese photographer Gonçalo Lobo Pinheiro's newly published photography collection "Desvelo · 關愛.Zeal" and tells the reasons why he aimed his lens at the disadvantaged elderly in nursing homes during the COVID-19 pandemic; the section "New Launch" introduces a rich variety of new arrivals, including books, movies, music and magazines. In addition, this issue also features 10 briefs yet insightful book reviews in Chinese, Portuguese and English.
A total of 3,000 copies of Books and the City are available free of charge at all branch libraries under the Cultural Affairs Bureau, tertiary education institutions, Tap Seac Gallery, and several bookstores as well as cultural and art spaces in Macao. The past 27 issues are also available on the Macao Public Library website at www.library.gov.mo.
View gallery