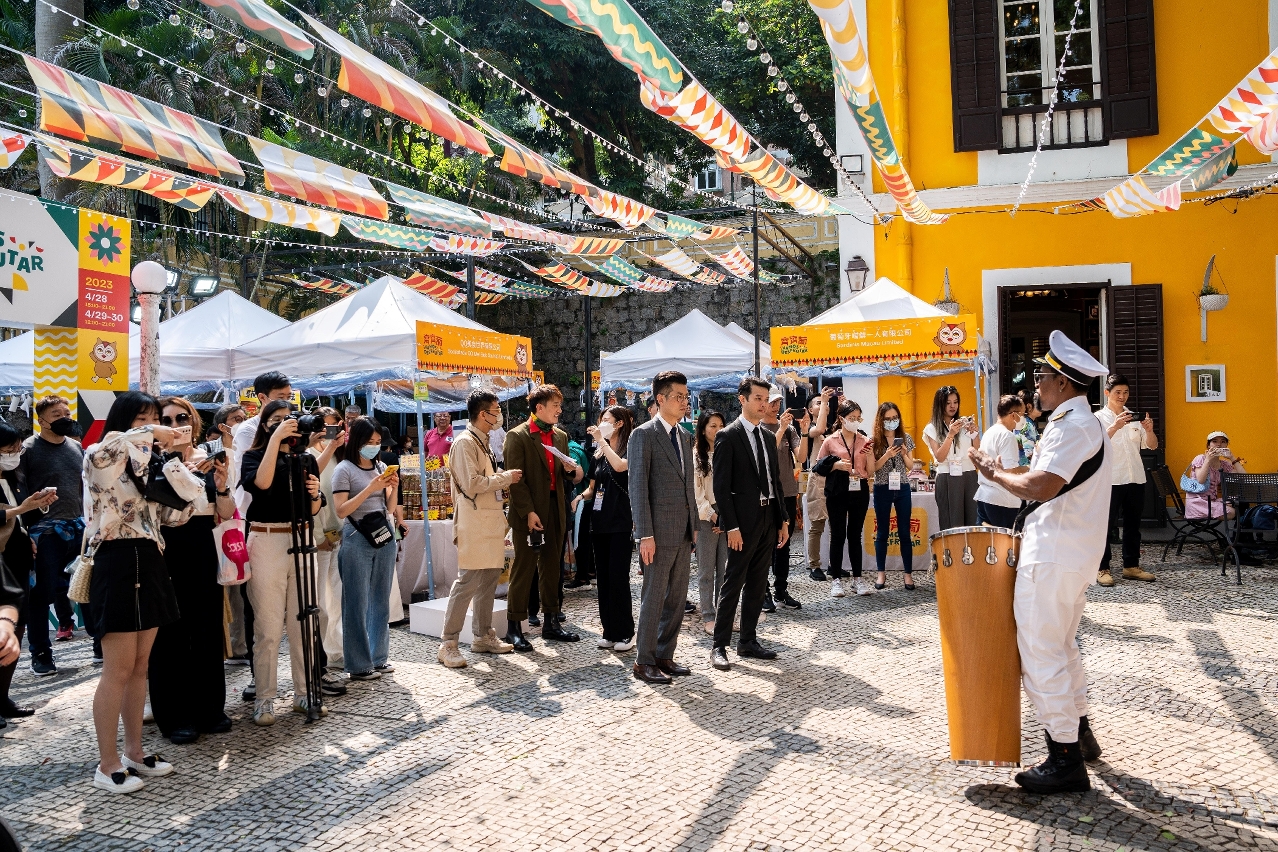 "2023 Let's Hang Out – Lusophone and Macao Products Bazaar" (at Albergue) attracts more than 10,000 visitors
The "2023 Let's Hang Out-Lusophone and Macao Products Bazaar" (at Albergue), held during the Labour Day holiday, concluded successfully last weekend. The event attracted people to visit the St. Lazarus Parish, an area full of Portuguese culture and architecture, through a series of activities such as exhibitions and sales, singing and dancing performances, handicraft workshops and interactive games. The three-day event (28-30 April) attracted more than 10,000 visitors to the bazaar, many of whom were visitors interested in Portuguese-speaking countries' products and Macao's specialties. In addition to purchasing products on site, visitors also asked for information of online and offline sales channels. Exhibitors were pleased with the number of visitors and sales performance.
Themed bazaar to promote Chinese and PSCs' cultures and bring visitors into the community
The bazaar has been held since 2018 and this is the 8th edition in Macao's communities and other areas nearby. Taking into account the previous two editions in Hengqin, the bazaar has attracted over 45,000 participants. The bazaar will continue to be held in different communities in Macao and other cities in the Greater Bay Area to boost community consumption and promote the specialties of Macao from Portuguese-speaking countries, giving the public and visitors a chance to experience the charm of Macao's China-PSCs cultural exchange.
Building a platform to expand the market for products from Portuguese-speaking countries
Apart from the bazaars, IPIM also promotes Macao's role as a China-PSCs platform through other channels, so that more people can get to know the special products and platform's advantages, deepening the economic and trade relations between China and Portuguese-speaking countries. From January to April this year, IPIM also organised two business matching sessions for PSCs' wines and one buyers' session at large professional fairs in the mainland, resulting in more than 250 business meetups and helping Portuguese-speaking products to expand into the mainland market. Some enterprises have successfully reached co-operation intent through the business matching arrangements and have continued to take forward their projects.
At the same time, IPIM also pro-actively promoted the popularity of products from Portuguese-speaking countries and the advantages of the China-PSCs platform through live events. The three live events organised in 2023 were watched by over 70,000 viewers.
IPIM will continue to promote the development of the China-PSCs platform through a series of online and offline activities, make good use of the "Pavilion of China-Portuguese-speaking Countries Commercial and Trade Service Platform" and the "China-PSC Business Compass" service, and continue to expand the scope of development of the industries.
View gallery