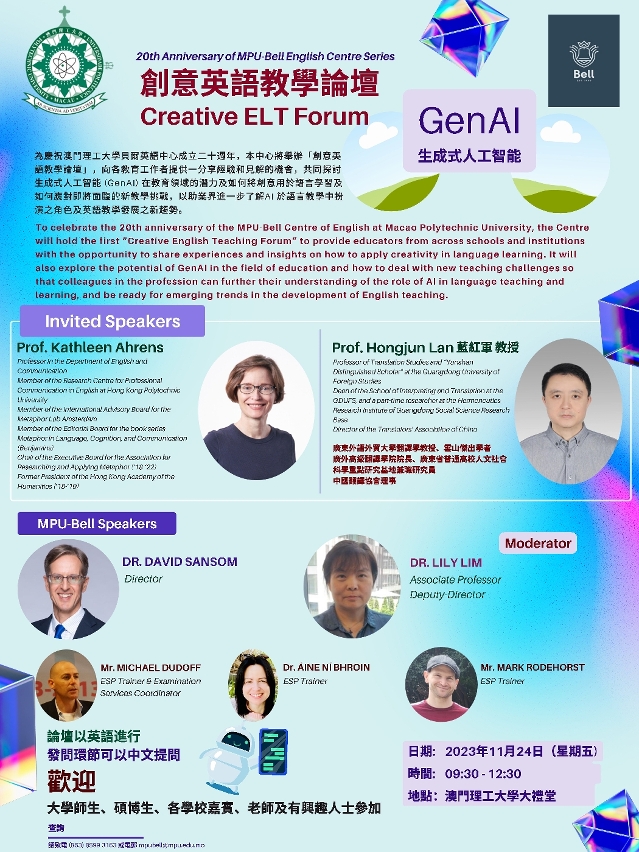 MPU-Bell Centre of English holds the Creative ELT Forum
In order to support the "1+4" moderate economic diversification strategy of Macao SAR Government, and coinciding with the 20th anniversary of the establishment of the MPU-Bell Centre of English, the Centre holds the Creative English Language Teaching (ELT) Forum on November 24, 2023. With generative artificial intelligence (GenAI) as the theme, the forum aims to provide educators from across schools and institutions with the opportunity to share experiences and insights on how to apply creativity in language learning. It will explore the potential of GenAI in the field of education and how to deal with new teaching challenges so that the colleagues in the profession can further their understanding of the role of AI in language teaching, and be ready for emerging trends in the development of English teaching.
Two well-known experts in Linguistics are invited as the distinguished speakers of the forum: Prof Kathleen Ahrens, Department of English and Communication, Hong Kong Polytechnic University; and Prof Lan Hongjun, Dean of the School of Interpreting and Translation at Guangdong University of Foreign Studies, Guangzhou. Three expreienced MPU-Bell Trainers will share their expertise on integrating technology and GenAI in effective teaching and leanring. All speakers will have in-depth discussion with participants on the topics of the forum.
The Creative ELT Forum welcomes participation from Macao's education sector, and all interested parties. MPU-Bell Centre of English has been rooted in Macau for 20 years. It continues to innovate in the areas of international English examinations and training, training for English teachers, and English learning for students and citizens. The Centre also promotes English study tours and launches various international English tests, including SAT , ACT, and IELTS, etc., to contribute to positioning Macao as a base for English training and international examinations. For any enquiry, please ring 8599 3163 or email mpubell@mpu.edu.mo
View gallery