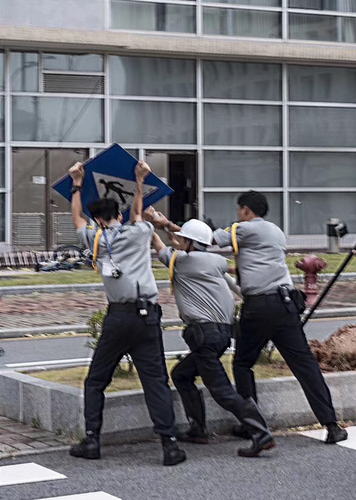 UM colleagues work around the clock to repair damaged facilities
Yesterday, Typhoon Hato struck Macao, causing unprecedented damage throughout the city, including the University of Macau (UM) campus. Fortunately, a group of dedicated colleagues in Macao and at UM remained in their positions yesterday in the dangerous weather, working hard to restore Macao and the campus to normal operation. After emergency repair, power and water supply has been partially restored on the UM campus. Currently, UM colleagues are racing against the clock to repair damaged classrooms, library, Sports Complex, and trees. UM will do its best to resume normal teaching activities as soon as possible.
Yesterday (23 August) morning, UM established a command centre for emergency control. UM colleagues have been working around clock to repair damaged facilities. Although water and electricity supply was cut off by the typhoon, the residential colleges at UM still managed to provide basic food and water to the students last night. Power supply to some critical laboratories at the university has been partially restored, reducing server damage. In the process of disaster control and post-disaster recovery, UM's top priorities include (1) ensuring the safety of every individual on campus, (2) restoring and maintaining basic conditions of living, including electricity for lighting, drinking water, and food; and (3) examining and repairing damaged classrooms so as to resume teaching and other academic activities as soon as possible. UM is confident that it will recover from the disaster and restore the campus to its normal condition soon.
Today, UM students formed volunteer teams to assist with post-typhoon work in the community. Wu Linkun organised a volunteer team to assist with cleaning up fallen trees and garbage on the UM campus and in Coloane. 'Natural disasters are inevitable, but from this disaster we can see that Macao residents are willing to be there for each other during difficult times,' says Wu. 'We will do our best to help our university and Macao residents.' Another student named Blair Chan assisted with cleaning up the garbage in Coloane. He says, 'I saw how hard the policemen and firemen worked. Some of them worked all night for emergency repair. I felt very touched. I hope to do something to help, so we can rebuild our community and our homes as soon as possible. '
View gallery