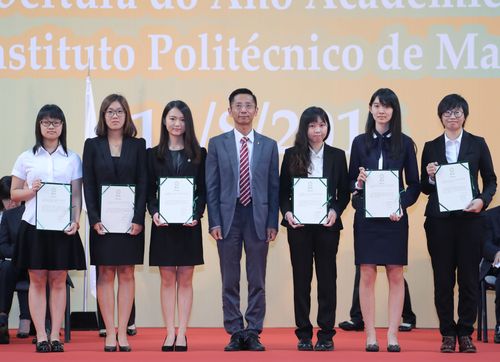 MPI awards scholarships to 150 high-achieving freshmen for the 2017/18 academic year
With its educational principles of student-centeredness and quality teaching, Macao Polytechnic Institute (MPI) has long been very popular with students. Over 6,600 students applied for admission to MPI in the 2017/2018 academic year with around 900 joining as freshmen. Over 80% of MPI's new students are from Macao, including those who are either academically high rankers or local/international award winners in fields such as science and technology, sports, arts, languages, debating and public speaking. The Institute will award scholarships to 150 high-achieving freshmen to encourage them to do their very best in their studies so as to contribute to the society in the future.
MPI has consistently been an ideal choice among local secondary students for their university education. The Institute received applications from over 4,000 students in Macao for the 2017/2018 academic year, and has noted that both the number of applications received and the quality of applicants this year are very satisfactory. Competition for admission into MPI was very keen this year: the Institute admitted around 750 outstanding freshmen, of which around 130 students were recommended for direct admission by their school principals. This year, MPI also welcomes international students from the Chinese Mainland, Hong Kong, Taiwan, Portugal, Brazil and Cape Verde. Students coming from diverse cultural backgrounds will encourage intercultural engagement on campus, thus helping to nurture an international perspective throughout the student population.
In terms of quality assurance, MPI is widely recognised by international academic and professional organisations. Most of the Institute's programmes have passed international academic reviews. For many years MPI has attracted numerous top students, testifying to recognition of the quality and standards of MPI's educational provision. The Institute has admitted many students who have displayed remarkable achievements in fields such as science and technology, arts, music, languages and sports. Incoming students this year include winners of international IT competitions; professional athletes who have competed and consistently excelled at local and international sporting events; excellent sprinters representing Macao in numerous competitions; budding and talented artists who were winners of design and music awards, as well as outstanding debaters who have received various awards in Macao-wide and other debating tournaments.
In the new academic year, MPI will continue to uphold its 'student-centered' teaching philosophy to nurture future professionals, providing top-notch academic support and facilities to create an enhanced learning environment. MPI will also actively explore internship and overseas exchange initiatives to encourage diversified learning and to nurture an international vision amongst students. Currently many of the Institute's programmes provide study abroad options for their respective students, who can also seek internship opportunities at over 200 organisations locally and abroad. All of these constitute a favourable environment for MPI students to develop their professional expertise.
View gallery