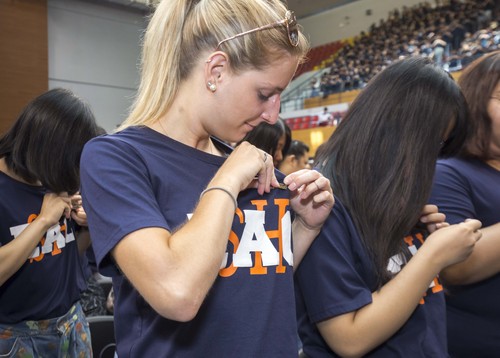 Freshmen put on the university pin, signalling the start of a new chapter in their lives
The University of Macau (UM) today (15 August) held the orientation and convocation for the 2017/2018 academic year to welcome more than 1,700 freshmen. UM Rector Wei Zhao gave the 'first lecture at UM' to the students, encouraging them to make the most of the 'great buildings' and 'great professors' at UM to acquire 'great knowledge' and 'great character', so they can rise up to the challenges of the 21st century.
The convocation opened in the beautiful music performed by the UM Symphonic Band. In his speech, Rector Wei Zhao congratulated the freshmen on beginning a new chapter of their lives at UM. He encouraged them to not only work hard but also learn to be good people and useful members of society. He hopes the students will be considerate of others, make contributions to society, and practice the five virtues of an ideal scholar listed in the university motto (humanity, integrity, propriety, wisdom, and sincerity). When giving the 'first lecture at UM', Rector Zhao told the students about UM's 4Gs, namely great buildings, great professors, great knowledge, and great character. He encouraged the students to make the most of the teaching and research facilities to increase their knowledge and learn from world-class masters in different fields, so they can acquire 'great knowledge' in their academic pursuits and 'great character' in their personal development.
At the ceremony, UM presented 11 kinds of scholarships to 162 outstanding students, including students on the Rector's Honour List. Scholarships presented at the ceremony included the Macau Foundation Scholarship, the Henry Fok Foundation Scholarship, the Bank of China Scholarship, Sands China Ltd. Scholarship, Nam Kwong Education Scholarship, the UMDF Scholarship, the ICBC Macau Scholarship, the UO Group Scholarship, the Galaxy Entertainment Group Scholarship, the SJM Scholarship, and Wu's Group Scholarship. This year UM awards a total of 4 million patacas in over 70 kinds of scholarships and academic prizes, to more than 400 outstanding students.
Classes for the new academic year will begin on Monday 21 August. To help freshmen adjust to their life on campus, UM is holding a series of orientation activities, including general briefing sessions, orientation sessions organised by the various faculties and residential colleges, and information sessions and parties. UM has also held information seminars for parents to help them learn more about the university's educational philosophy and latest developments, so that they can help their children adapt to college life.
View gallery