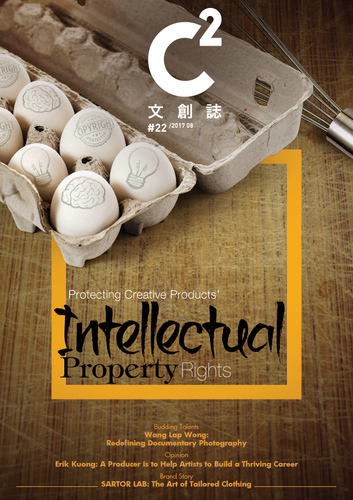 The 22nd issue of C2
Published by the Cultural Affairs Bureau and produced by 100 Plus Cultural and Creative Development Ltd., the twenty-second issue of C2 Magazine will be launched on Wednesday, 2 August. It is important to protect the cultural and creative products from being plagiarized by others, patent is a form of protection to the inventors' effort and contributes to the success of cultural and creative products and design by granting them exclusive rights. In "Feature", representatives from two local cultural and creative brands share their experiences in protecting their intellectual properties.
In the section "Feature", representatives from JOC Square and Hylé Design Macau talk about the procedures for applying trademarks and product patents in Macao and Mainland China, the challenges that they encountered and the approaches that they used for solving the problems. Some information about relevant applications in Macao is also provided.
Erik Kuong's theatrical works Playing Landscape and Picnic in the Cemetery have made him rise to fame. Aside from being a theatre producer, he is more like an artist manager. In "Opinion", Kuong talks about how he assists artists to make career planning and to produce better works. SARTOR LAB is featured in the column "Brand Story". Its founders Kade Chou and Victor Choi specialise in bespoke menswear and their designs are fashionably unconventional. They advocate aesthetics of life, bringing glamorous menswear trend in Macao. In "Budding Talents", local photographer Wang Lap Wong, who has just returned from England, showcases the balance between documentary photography and arts behind the lens. Each photography brings a profound social reflection, allowing the audience to have multiple visual experience. In the "Blogs" section, seven columnists, Joe Tang, Ho Ka Cheng, Yi-Hsin Lin, Yap Seow Choong, Ron Lam, Lam Sio Man and Cheong Sio Pang, continue to share their unique perspectives on the development of the cultural and creative industries.
C2 is a trilingual magazine (in Chinese, Portuguese and English). Readers are welcome to browse or download the magazine at www.c2magazine.mo. The email subscription function is now available. Simply click the "subscribe" button on the right corner of the magazine's webpage and enter your email address to subscribe C2 magazine. For the latest updates, you may also visit the magazine's page on Facebook at www.facebook.com/c2magazine.macau, or on WeChat, by clicking "add friend" and inputting "c2magazine" in the ID column. For enquiries, please email to c2magazine.macau@gmail.com.
View gallery