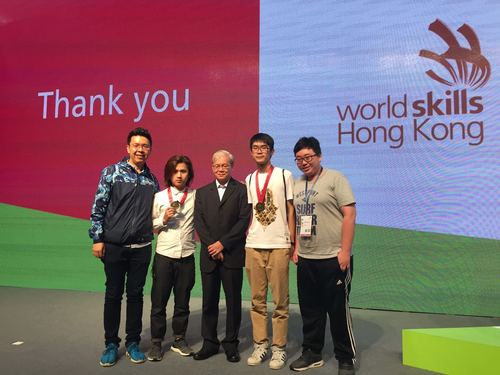 A group photo
Chio Wan Long, a first-year student from the Department of Computer and Information Science, Faculty of Science and Technology, University of Macau (UM), recently won a bronze medal at WorldSkills Hong Kong 2017 - Mobile Robotics. Chio's medal-winning robot was developed under the supervision of Associate Professor Vong Chi Man.
WorldSkills Hong Kong 2017 is an international mock competition that aim to help participants prepare for the WorldSkills Abu Dhabi 2017 to be held in October. The event attracted participants from various countries and regions, including Russia, Japan, France, Canada, Malaysia, Singapore, mainland China, Hong Kong, Macao, and Taiwan.
Launched in 1954, the biennial WorldSkills Competition is the biggest vocational education and skills excellence event in the world. Worldskills International is a non-profit association formed by 77 member countries and regions. The organisation aims to promote the importance of various skills in the world and provides a platform for its members to exchange ideas on how to improve vocational education and training. The Macao team in the competition was organised and supported by the Labour Affairs Bureau of the Macao SAR.
View gallery