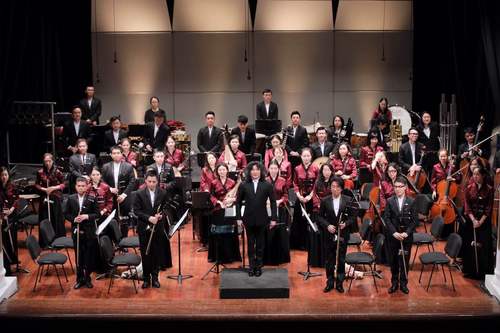 The Macao Chinese Orchestra's Concert Season Closing Concert "Encounter with Chinese Music" to be held on Friday
The Macao Chinese Orchestra, under the auspices of the Cultural Affairs Bureau, will present the 2016-2017 season closing concert "Encounter with Chinese Music" on Friday, 21 July, at 8pm, at the Dom Pedro V Theatre. Tickets are now available at Macao Ticketing Network.
In the closing concert "Encounter with Chinese Music", conducted by the National Class One Conductor Pang Ka Pang, the Macao Chinese Orchestra performs a number of musical pieces, namely Spring Festival Overture showing the warm and joyful scenes in the Spring Festival, the famous folk song from Yunnan Province Babbling Brook, Dance of Golden Snake involved with various percussions to present a festive atmosphere, as well as Silk Road composed by young composer Jiang Ying and integrated with various musical elements like Flamenco, Tango and Tap Dance. In addition, the concert features the pipa solo A Moonlit Night on the Spring River by the Orchestra's young musician Deng Le, describing a moonlit night on the Spring River and the exotic scenery of a water village in Jiangnan; the Guangdong Gaohu solo Sorrow of Twin Stars by Cai Feng, with the tale of the Weaver Girl and the Cowherd as the background, and Zhongruan Concerto Blossom by Lin Jie.
The 2016-2017 season closing concert "Encounter with Chinese Music" will present an exquisite, delicate and beautiful performance with folk music to music enthusiasts, allowing them to experience not only the artistic conception of the musical pieces but also unforgettable memories of youth through the folk music. This concert will also kick off the upcoming 2017-2018 concert season themed "30 Years of Excellence with Everlasting Classics".
Tickets for the concert "Encounter with Chinese Music" are priced at MOP80 and MOP60. Holders of valid full-time student card or Macao Senior Citizen Card can enjoy a 50% discount. Any ticket purchase of 10 or more tickets for the same concert, holders of Macao Chinese Orchestra membership card or holders of Air Macau boarding pass with destination identified as Macao (MFM) within 7 days upon their arrival can enjoy a 40% discount. A 30% discount will be offered in any ticket purchase for holders of BOC Multi-Currency Credit Cards or BOC Card; a 20% discount will be offered in any ticket purchase for holders of valid Macao Teacher Cards, MasterCard, Visa or UnionPay Card from ICBC (Macau), OCBC Wing Hang, BCM Bank or Tai Tung Bank. Ticketing hotline: 2855 5555. For details about the programme of the Macao Chinese Orchestra, please visit the Macao Chinese Orchestra at www.icm.gov.mo/ochm.
View gallery