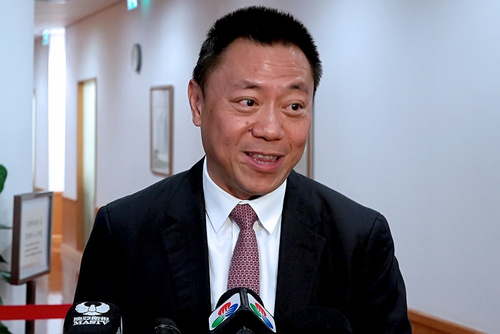 The Secretary for Economy and Finance, Mr Leong Vai Tac, speaks to reporters.
The Government would analyse various options – including the possibility of amendment to terms and conditions – regarding any refreshment of gaming rights for Macao's current gaming concessions and sub-concessions.
The Secretary for Economy and Finance, Mr Leong Vai Tac, today told reporters that – as the gaming industry played a significant role in the Macao economy – the Government needed to assess cautiously such matters, so to ensure a healthy and orderly development of the sector.
The concessions and sub-concessions of the six current gaming operators will expire on various dates between 2020 and 2022. They may be extended exceptionally by the Chief Executive in increments of time to a maximum of five extra years. After that, a new concession process must take place.
Mr Leong said the Government paid heed to opinion regarding refreshment of gaming rights for the city's current gaming concession and sub-concession holders, particularly opinions based on the "Interim Review of Gaming Liberalization for Games of Fortune".
The Government would also compare Macao's gaming industry development with that in other cities, so as to further non-gaming and the diversification of the sector, he added.
In addition, Mr Leong noted that June's gross gaming revenues saw a 25.9 percent year-on-year increase, to a total of 19.994 billion patacas. Such high percentage growth was as a result of a low base of comparison, since June 2016 recorded the lowest monthly revenues for more than 50 months up to that point.
The Government would pay close attention to gaming revenues in the peak summer travel season of July and August of this year, said Mr Leong.
Mr Leong also stated that exports of other tourism services in the first quarter of 2017 grew by 20.9 percent, compared to the corresponding period in 2016. The growth showed Macao's economy was not merely driven by gaming revenues, he added.
The Government had been conducting an analysis of the city's economic performance for the past six months, in order to take a macro-level view of the overall situation; in particular, the conditions for development of small- and medium-sized enterprises.
View gallery