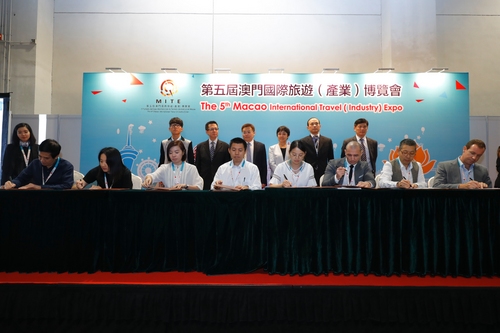 31 cooperative agreements were signed during the Expo
Supported by China National Tourism Administration (CNTA), organized by Macao Government Tourism Office (MGTO) and coordinated by Macau Travel Agency Association, the 5th Macao International Travel (Industry) Expo ("the Expo" or "MITE") adjourned with success on 9th July. The Expo leveraged Macao's role as a Sino-Portuguese platform and highlighted the city's unique advantages, in line with the Macao Special Administrative Region Government's participation in the Country's Belt and Road development and the development planning of a city cluster in the Guangdong-Hong Kong-Macao Greater Bay Area. The Expo was greater in scale compared with last year, with a wider exhibition floor, more booths and exhibitors coming from a greater number of countries and regions. The Expo admitted around 36,000 visitors this year and 31 cooperative agreements were signed during the event. The Expo has achieved expected results.
The 5th MITE was held at Hall D, Cotai Expo of the Venetian Macao from 7th to 9th July. The exhibition floor was expanded to a total area of 10,000 square meters. There were 473 booths in total, with participation of 303 enterprises and units coming from 45 countries and regions across Asia, Europe, the Americas, Africa and Oceania. Among these countries, 19 of them are along the Belt and Road, while 20 exhibitor units are tourism departments from various Mainland provinces or cities.
The Expo not only covered six key elements of the tourism industry — dining, lodging, transportation, entertainment, sightseeing and shopping, but also gathered professionals and operators from tourism and other related sectors worldwide, including travel agencies, hotels, scenic spots and attractions, transportation as well as other travel-related services. This year marked the fifth anniversary of MITE. A total of six featured exhibition zones and sessions were presented in the event, including China's Maritime Silk Road Exhibition Zone, "Guangdong-Hong Kong-Macao Greater Bay Area" exhibition zone, the Tourism Commodity Fair, China – Portugal Tourism Seminar & Networking, Macao Street Exhibition Zone and Nostalgic Creative Zone. In addition, a series of tourism presentations were held in the Expo to promote various travel destinations and scenic spots, etc. The three-day Expo attracted around 36,000 visitors in total, an increase of 12.5% from last year, and over 300 industry buyers from different major visitor markets including Japan, Malaysia, Thailand, the Philippines, the United States as well as the Mainland, Hong Kong and Taiwan region. Over 50 members of the press attended and covered the event. Different exhibitor units leveraged the Expo to expand their network and build new partnerships with their counterparts. They also showcased their tourism resources and products to visitors in the bustling event. The exhibitors expressed their satisfaction with the result this year and stated that the number of visitors had an increase from last year.
With close collaboration between the public and private sectors as well as the support of various participating entities and collaborative partners, this edition of the Expo strengthened its role as a bridge for exchange and cooperation and forged an effective networking and promotional platform for exhibitors and industry buyers worldwide. It also fully radiated Macao's unique competitive edges and demonstrated the city's strengths to organize professional travel fairs. Launched last year, the China – Portugal Tourism Seminar & Networking once again shone as a featured highlight of the Expo this year, offering an exchange platform for industry delegates from China, Portugal as well as other countries and regions to enhance tourism cooperation with their counterparts. During the Expo, a series of cooperative agreements were signed among enterprises from the tourism and relevant industries in eight different categories including "Belt and Road" countries, featured tours, tourism cooperation, "Internet+" and smart tourism, a city cluster in "Guangdong-Hong Kong-Macao Greater Bay Area", tourism commodities, tourism cooperation with Portuguese-speaking countries and memorandum of cooperation on tourism with Pakistan. A total of 31 agreements were signed to foster business cooperation among industry operators from Macao and other countries and regions. MGTO Director Senna Fernandes; Director of the Economic Affairs Department of the Liaison Office of the Central People's Government in the Macao SAR, Liu Bin; President of Macau Travel Agency Association, Alex Lao, and other guests witnessed the signing ceremonies. During the Expo, MGTO met with Tianjin Municipal Tourism Administration and tourism enterprises from the city, as well as the delegation of the Portuguese Association of Travel and Tourism Agencies (APAVT), among others. MGTO Deputy Director Cecilia Tse attended and addressed the Themed Presentation of Zhuhai Tourism during the event.
The co-organizers of the 5th MITE are as follows: Tourism Development Committee of the Macao SAR Government, Macao Chamber of Commerce, Macao Federation of Trade Unions, the General Union of Neighbors Association of Macau, the Women's General Association of Macau, Association of Returned Overseas Chinese Macau, Travel Industry Council of Macau and Association of Macao Tourist Agents. The Expo's official premier partner is Bank of China Limited, Macau Branch and the Expo's media partner is Teledifusão de Macau, S.A. (TDM).
MITE is a major international annual event for the tourism industry. It is dedicated to forging a platform that brings together delegates from the tourism and relevant industries near and afar to exchange ideas, build partnerships and enjoy a common share in various visitor markets, while providing practical travel information for visitors. The 6th MITE is scheduled in April 2018, a timely arrangement for exhibitors to promote their tourism products for the peak summer period.
In the future, MGTO hopes to attract more overseas exhibitors to the event, especially those from countries along the Belt and Road as it strives to forge the Expo into a signature international tourism exhibition of Macao, in line with the city's goal to become a World Centre of Tourism and Leisure.
For more information about the 5th MITE, please visit the official website: www.cmitc.com.
View gallery