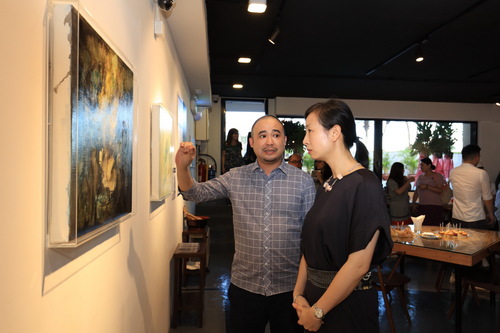 Guests appreciating the artwork of the exhibition
The Institute for Tourism Studies (IFT) has always been committed to promoting the cultural industry in Macao. Apart from constantly providing a variety of cultural and creative courses, IFT has also been pursuing active cooperation with artists and organised exhibitions in recent years to provide a platform for local artists to demonstrate their artworks and in turn to integrate arts into the daily life of local residents. IFT Café at Anim'Arte NAM VAN is one of the platforms to showcase local arts and provide citizens and tourists with a relaxing dining experience with cultural and art elements.
IFT has the honour to invite local artist José Dores to hold "Looking Through the Fog" exhibition at IFT Café from 30 June to 21 Aug 2017, showcasing his oil paintings on canvas. He illustrates a lot of abstractionism in his paintings to showcase an abstract sphere without boundaries, allowing people to freely think, express themselves, and live for today in their hustle and bustle lives.
IFT Café not only serves the Institute's appetising food; but also provides training to IFT students. The outlet additionally operates as a venue to promote culture, and regularly hosts exhibitions featuring local artworks. In addition to IFT Café, Anim'Arte NAM VAN has many other elements for leisure for citizens and tourists to experience. The revitalised waterfront includes recreational facilities, shops selling cultural and creative products, a book market, and a weekend craft market. Additionally, the area has regular outdoor performances. At the lake, pedal boats are also available for people to ride.
In 2017, IFT received a successful International Quality Review(IQR) from the UK's Quality Assurance Agency for Higher Education (QAA), and was ranked by the "QS World University Rankings by Subject 2017" as the 2nd best higher education institution in Asia in the field of hospitality and leisure management and the 18th best higher education institution in this field in the world.
View gallery