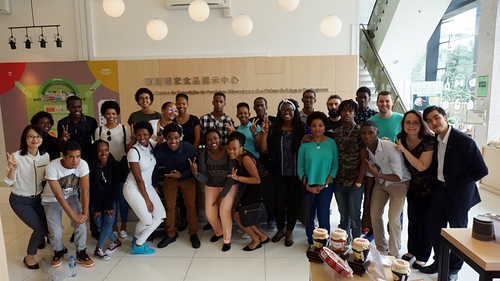 The international students visiting the Portuguese-speaking Countries Food Products Exhibition Centre.
The Student Affairs Office of Macao Polytechnic Institute (MPI) is organising a series of summer activities for the MPI international students. Following the spectacular show proudly presented by the performers from the Chinese National Peking Opera Theatre, in which the MPI international students could glimpse the very essence of the traditional Chinese culture, the Student Affairs Office again arranged a visit on 21 June 2017 to the General Consulate of Portugal in Macao and Hong Kong for around 30 MPI students from such lusophone countries as Portugal, Brazil and Cape Verde.
The MPI international students were warmly received by Mr. Vítor Sereno, the Portuguese consul to Macao and Hong Kong, and Mr. João Laurentino Neves, the president of the Oriental Portuguese Institute. During the discussion, Mr. Sereno said that MPI is the best choice for lusophone students in Macao. The cultural diversification of Macao sets it apart from other similar regions and marks its competitive advantage, and it is playing a particularly important role as a platform between China and lusophone countries. In Macao, June 2017 is the month of Portugal, and Mr. Sereno gave his unreserved commendation to MPI, acknowledging the relentless efforts made for years by Professor Lei Heong Iok, the MPI president, for promoting the language of Portuguese and the Sino-Portuguese cultural exchange. Mr. Sereno also stressed that Macao as the three strategic centres—the food product distribution centre for Small and medium-sized enterprises of Portuguese-speaking countries, commercial and trade service centre, and the centre for conventions and exhibitions for economic and trade co-operation between China and Portuguese-speaking countries, it is very significant for the development of Portuguese speaking countries, and he urged the students to study hard to be the specialists in Chinese-Portuguese languages and cultures, and they would definitely have a bright future.
On the same day, the MPI international students also visited the Portuguese-speaking Countries' Food Products Exhibition Centre as managed by Macao Trade and Investment Promotion Institute. The students were very excited to see so many products from their home countries and had a deeper understanding of the industry and trading of the Portuguese-speaking countries' food products in Macao through the presentation of the centre's representative.
The organiser of the event, the Student Affairs Office indicated that MPI would work in line with the national development strategy to enhance Macao as a platform and a bridge between China and Portuguese-speaking countries. Apart from teaching the students the knowledge and skills, MPI also provided the students with various visits and exchange activities to help them to integrate into Macao's Chinese-Portuguese cultures, and strengthen their knowledge of economic and trading development, thus inspire them to start thinking about their career choices.
View gallery