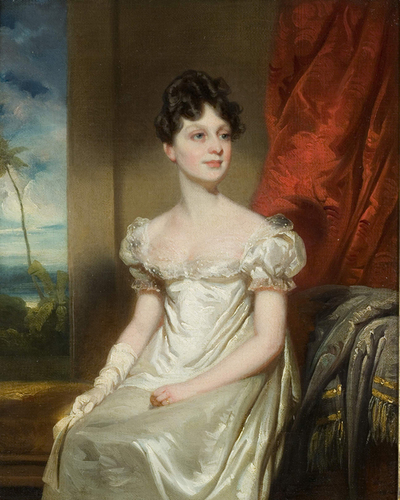 Portrait of Lady Mary Bruce/George Chinnery(1774 - 1852)/Oil painting on canvas/First half of the 19th century
The Macao Museum of Art(MAM) under the Cultural Affairs Bureau holds the exhibition "Representing Women through MAM Collection – 19th and 20th Century" on Friday, 30 June, on the 3rd floor of the Museum.
The question of the place of women in the art world has been inspiring museums to look back on their collections in order to understand the subject in two perspectives: 1) how are women portrayed in art history and 2) how female artists are present (or not) in the museum collections. In line with these concerns, the Macao Museum of Art presents "Representing Women through MAM Collection – 19th and 20th Century", which showcases 70 female portraits including works from a Chinese and Western tradition, or works that are at the confluence of both traditions.
During the 19th century and 20th century, if a woman wanted to succeed as a professional artist anywhere in the world, she would have to circumvent gender-specific artistic and social hierarchies. While the access to the profession was limited, women had always been an incredible source of inspiration for male artists who usually portrayed them within the exact roles they were supposed to play: goddess, mothers, servants or concubines.
The exhibition is organized in four sections: 'A Western Tradition in Macao – 19th Century', 'Views of Europeans on China – Late 19th Century', 'Calendars and Posters – Early 20th Century' and 'Propaganda – Mid 20th Century'. The works presented are in different media such as oil paintings, drawings, watercolours, gouaches, posters, and sculptures, through a multidisciplinary approach. The visitant will be able to see works by artists like George Chinnery (1774 - 1852), Lam Qua (1801 - 1860), Thomas B. Watson (1814 - 1860), Marciano António Baptista (1826 - 1896) and Guan Huinong (1878 - 1956), among others.
During the exhibition period, MAM also hosts the exhibitions 'Ceramic and Seals of 108 Heroes of Shui Hu Legend from the MAM Collection', 'Love of Macao – Photographs by Lee Kung Kim' and 'Abstract Paintings from the MAM Collection' and invites the audience to enjoy these works. The Macao Museum of Art, located at Avenida Xian Xing Hai, is open daily from 10am to 7pm including public holidays (no admission after 6:30pm, closed on Mondays). Admission is free. For enquiries, please contact MAM through tel. no. 8791 9814 during office hours, or visit the webpage www.MAM.gov.mo.
View gallery