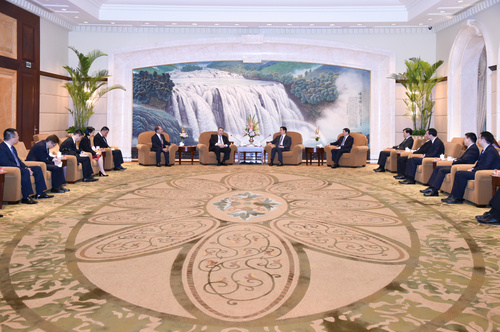 The Chief Executive, Mr Chui Sai On, meets with the Secretary of the CPC Shanghai Municipal Committee, Mr Han Zheng, and the Mayor, Mr Ying Yong.
Macao and Shanghai continued to foster cooperation efforts on financial services, tourism, education, technology and sports, said the Chief Executive, Mr Chui Sai On.
Mr Chui made the remark this morning in Shanghai during a meeting with the Secretary of the Communist Party of China (CPC) Shanghai Municipal Committee, Mr Han Zheng, and the Mayor of the Municipality, Mr Ying Yong.
During the meeting, Mr Chui reviewed current cooperation between the two places, including a memorandum signed in 2012 on strengthening financial cooperation, which provided favourable conditions for Macao to take part in projects relating to the China (Shanghai) Pilot Free Trade Zone. The effort also comprised a series of cooperation in tourism, cultural affairs, business and education, stated Mr Chui.
The Chief Executive gave an update on Macao's latest socio-economic development. Macao had experienced a period of in-depth economic adjustment and had now entered a stage of stable development, he said.
The Government strove to boost the city's economic development – particularly in terms of diversification and regional integration – and to enhance social well-being, stated Mr Chui. The Government was dedicated to linking its efforts on Macao's Five-Year Development Plan with the country's 13th Five-Year Plan, so as further to facilitate the city's sustainable development.
In today's meeting, Mr Han said Shanghai and Macao had developed close ties and had strong cooperation in education, financial services, technology, people-to-people exchanges and training of civil servants. Shanghai would continue to support Macao's development process, expanding the scope of cooperation in order to provide mutual benefits for the two cities.
The Director of the Liaison Office of the Central People's Government in the Macao SAR, Mr Wang Zhimin, also attended the meeting. He said the Central Government had been giving its full support to Macao regarding economic diversification, adding that the Liaison Office would continue to cooperate with the SAR Government's pursuit of lawful administration via the principle of "One country, two systems" and the framework of the Basic Law.
Macao officials attending the meeting included: the Secretary for Economy and Finance, Mr Leong Vai Tac; the Chief-of-Office of the Chief Executive's Office, Ms O Lam; the Director of the Government Information Bureau, Mr Chan Chi Ping; and the Director of the Protocol, Public Relations and External Affairs Office, Mr Fung Sio Weng.
Also present at the meeting were: member of the Standing Committee of the CPC Shanghai Municipal Committee and Secretary-General of the Committee, Mr Zhuge Yujie; and the Secretary-General of Shanghai Municipal Government, Mr Xiao Guiyu.
The Chief Executive attended in the afternoon an event to mark the 75th anniversary of the Tai Fung Bank and the launch of the institution's Shanghai branch. The Macao officials returned to Macao in the evening.
View gallery