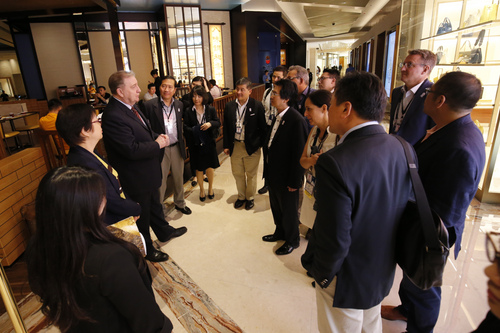 Wharton School delegation visited various tourism related facilities in Macao
Macao Government Tourism Office (MGTO) received close to 30 alumni from the world's top business school, The Wharton School of the University of Pennsylvania for a one-day visit today (22 June), which include presentations, networking, site visits, tasting Macao gourmet and more.
A delegation of 30 people arrived Macao from Hong Kong this morning. MGTO set up a special tourism and business-related presentation session and invited three government high officials as guest speakers to introduce to the delegation the latest development on Macao's infrastructure, investment, tourism and entertainment together with Director of Macao Government Tourism Office, Maria Helena de Senna Fernandes. Guest speakers include Director of Gaming Inspection and Coordination Bureau, Paulo Chan; Director of Transport Bureau, Kevin Lam as well as Acting President of Macao Trade and Investment Promotion Institute, Irene Lao. At the presentation session, Director Senna Fernandes welcomed the delegation and the representative of Wharton School thanked MGTO for the arrangement of the visits and exchange activities. After the session, the delegation visited the Observation Lounge on 58th floor of the Macao Tower for a panorama view of Macao and Zhuhai, and at the same time, overlooking the Hong Kong-Zhuhai-Macao Bridge as well as the new urban reclamation areas.
MGTO hosted a Networking Lunch where the delegation meet and exchange with key management members from the tourism and entertainment industry and The American Chamber of Commerce in Macao, of which includes Chairman of the American Chamber of Commerce in Macau (AmCham Macau), Paul Tse; Executive Director, President and Chief Operating Officer of Sands China, Wilfred Wong; Chief Executive Officer and Executive Director of MGM China Holdings Limited, Grant Bowie among others. In the afternoon, the delegation had a site inspection of various tourism complexes in Macao peninsular and Cotai area. The delegation then returned to Hong Kong after tasting the Macanese cuisine at night.
MGTO has been dedicated to fostering growth and diversity of international visitor markets. Through the invitation of business elite from different fields to visit Macao, MGTO hopes that the tourism and business promotion will forge ahead Macao's development into a World Centre of Tourism and Leisure.Macao's economy has been growing rapidly in recent years, and although it has a relatively small economy, it pursues an open economic policy. Macao is integrated with the global economy and maintains special economic ties with Portuguese-speaking countries. It is believed that through the visit and exchange, the delegation will further understand Macao's economic development and business environment.
Wharton Global Forum is held between 22 to 24 June in Hong Kong. Aside from the Opening Plenary Session and various keynote sessions taking place on 23 and 24 June, the organizer designed some all day immersion treks on 22 June, including Macau – Tourism and Entertainment Trek. MGTO is hosting the Wharton School alumni to enhance Macao's international reputation.
Situated in Philadelphia of Pennsylvania of the United States, the Wharton School of the University of Pennsylvania is ranked a top business school worldwide. Over the years, it nurtured numerous international celebrities in the commerce sector, such as: American business magnate, Warren Buffett; Former CFO of Morgan Stanley, Ruth Porat; Former president of NASDAQ, Alfred R. Berkeley among others. The Wharton School alumni who visited Macao this time include many members of the senior echelons of multinational enterprise, coming from various sectors including bank, finance, investment, private equity, enterprise management, yacht manufacturing, language training as well as the medical field. Held in different regions around the world, the Wharton Global Forums bring together leaders from business and government along with Wharton faculty and alumni to explore opportunities and challenges facing global businesses.
View gallery