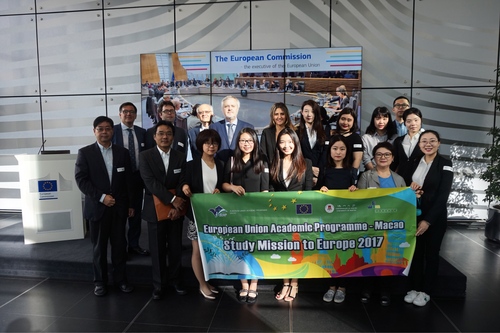 The UM delegation visits the European Commission
A delegation of 15 students and faculty members from the University of Macau (UM) participated in an annual study mission to Europe organised under the European Union Academic Programme in Macao (EUAP-M). During the study mission, they met with President of the Portuguese Republic, Marcelo Rebelo de Sousa, who explained the significance of European studies in the current international context.
Members of the delegation included President of the Institute of European Studies of Macau (IEEM), José Luís de Sales Marques. The delegation also met with Portugal's Secretary of State for European Affairs, Margarida Marques, and members of the Parliament of the Friendship Parliament Committee Portugal-China, including its president, Ana Catarina Mendes. The current relations between Europe and China were discussed at the two meetings. The delegation will also meet with the Mayor of Porto, Rui Moreira.
The delegation attended a conference on the consequences of Brexit to Europe and China held at the Institute for European Studies at the Free University of Brussels, and an international conference on China's 'One Belt, One Road' initiative held at the University of Lisbon's School of Economics and Management. The delegation also visited the European Commission; the European External Action Service; Belvue Museum; the recently opened House of the European History, an initiative of the European Parliament; the National Museum of Machado Castro, one of the most significant museums in Portugal; and the University of Coimbra.
The annual study mission to Europe is part of the EUAP-M´s outreach activities. The delegation comprises undergraduate and postgraduate students from the programmes in European studies, international relations, and law and communication; winners of the competitions organised by the EUAP-M; as well as professors and lecturers from the Faculty of Social Sciences and Faculty of Law.
The EUAP-M is a partnership established in 2012 between UM and IEEM, co-financed by the EU. It aims to enhance knowledge about the EU in Macao, promote exchange of students and faculty, and advance research in European studies.
View gallery