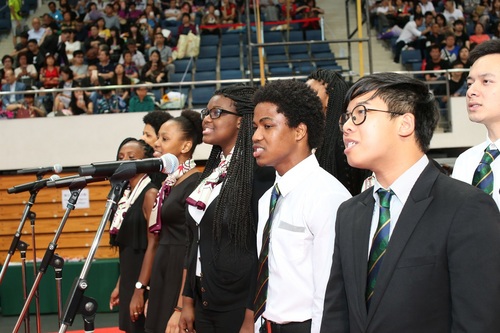 Performance by teachers and students
The Macao Polytechnic Institute held the graduation ceremony for the academic year 2016-2017, witnessing a total cohort of 650 students graduating from its 20 Bachelor's degree programs and majors this year. The Chief Executive of Macao Dr. Chui Sai On officiated the ceremony and underscored the SAR government's commitments to promoting the development of education, and to driving the education industry towards modernization and smart management, and stimulating innovation in education. The SAR government is resolved to establish effective and sustained mechanisms for its education system and talents training. To that effect, the government pledged mufti-layered measures to develop the education industry, through policy supports, resource investment, continuous refinement of mechanisms etc. The Chief Executive also encouraged MPI to leverage its unique strengths and advantages so as to provide more professional and practical talents to Macao.
The graduation ceremony was formally held at the MPI Sports Pavillion on the afternoon of 19 June. It was officiated by the Chief Executive Dr. Chui Sai On, who was joined by Mr. Tam Chon Weng, Secretary for Social Affairs and Culture, and Professor Lei Heong Iok, President of MPI. Other distinguished guests also attended the ceremony included Mr Pu Hailong, representing the Liaison Office of the Central People's Government in the Macao SAR, members of the Legislative Council, members of MPI's Advisory Committee, other government officials, social elites and dignitaries, principals of secondary schools, parents and MPI faculty and staff. The guests were overjoyed to witness this exciting graduation ceremony and to share the joys with all graduates.
During his speech, the Chief Executive Dr. Chui Sai On pointed out that talent training is contingent on an effective education system; and that a due respect for education is a respect for talents; in a similar vein, an emphasis on education is equal to an emphasis on the overall development of the whole society. Obviously, education has become an important means to enhance the comprehensive competitiveness of the whole society, which will ultimately contribute to improving the quality of life for all residents, thus constituting the cornerstone for national revitalization and social progress. The SAR Government will continue to implement its policy of stepping up investment into higher education, pro-actively develop balanced plans in the short, medium and long terms; to strengthen the construction of higher education system, speed up the improvement of relevant laws and regulations; to encourage local tertiary institutes to consolidate and innovate local education characteristics and to further optimize teaching conditions and facilities; to strengthen the training of teaching staff, and to speed up the establishment of institutions accreditation mechanisms that can safeguard the continuous improvement of the quality of education and create favorable conditions for young people to acquire knowledge, cultivate morality, and put their talents into full play. The SAR Government concurs with MPI's management principle of "Equal Emphasis on both Teaching and Research", and endorses its approach towards improving its educational quality and standards through institutional and program reviews conducted by accreditation authorities at home and abroad, thus contributing to the SAR government's deepening exploitation of human resources and broadening of its talent reserves.
Professor Lei Heong Iok said in his speech that both the enrollment rate and the employment rate of MPI graduates have been very encouraging; and that MPI graduates have received 'Positive' ratings from over 90% of surveyed institutes for further studies and employers. MPI has enjoyed high popularity not just among the local and the mainland, but also among many state leaders of the European Union countries, the Portuguese-speaking countries and ministers from other overseas countries. MPI has been ranked as the top NO. 1 choice for university enrollment for seven consecutive years among local secondary school graduates. Professor Lei reiterated that the educational philosophy of "Establishing Morality and Cultivating People" has steered his management of MPI as its president since 1999 and it has remained unchanged all over these years. To achieve this goal, teachers need to comply with the professional ethics of "Instilling Morality, Passing on Knowledge, Answering Queries"; while students need to stick to morality and ethics, abide by the laws and disciplines, and 'never get tired of learning', so as to become an excellent student of high morality and top academic performance. It is this spirit of "morality and cultivation" epitomized in MPI's management philosophy that allows MPI to leverage its strengths and advantages to serve the community, and to launch programs timely that cater to the changing needs of the community; and to churn out batches of practical talents. Finally, Professor Lei called on all graduates to further uphold this spirit of MPI in the new journeys of their life and to excel in their new endeavors.
The representative of graduates, Ms. Cheung Pui Weng, spoke on behalf of all graduates. She first expressed her gratitude to the teachers for taking good care of students wholeheartedly and for catering to their individual needs meticulously, for instilling knowledge in students without any reservation, and for not giving up on any one of the students. At MPI, teachers are committed to implementing student-centered teaching methods and attitudes, which are part and partial for training students to become talents, an aspect that all MPI graduates are particularly taking pride in. Ms Cheung also encouraged graduates to strive for the best of their own, and make unique contributions to the community, and bring honors and prestige to their alma mater in the future.
View gallery