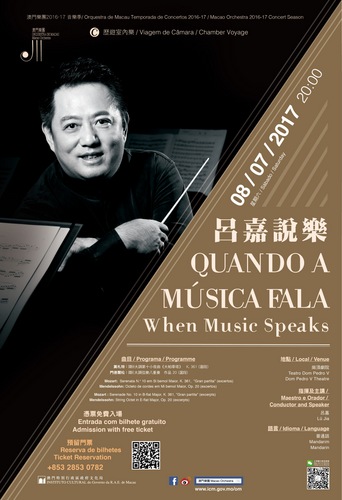 "When Music Speaks" concert
The Macao Orchestra (OM, from the Portuguese acronym), under the auspices of the Cultural Affairs Bureau, presents the concert "When Music Speaks", part of the concert series "Music for All", on Saturday, 8 July, at 8pm, at the Dom Pedro V Theatre. World-renowned conductor Lü Jia, OM's Music Director and Principal Conductor, will meet music fans face-to-face and elaborate on chamber music of Mozart and Mendelssohn. Admission to the concert is free.
In this concert, the OM under Lü Jia performs excerpts of Mozart's Serenade No. 10 in B-flat Major, "Gran partita", which features clear and crisp instrumental solos and an extraordinary resonance in the orchestra sections, thereby captivating the audience's attention. Furthermore, excerpts of the melodic and romantic String Octet in E-flat Major by Mendelssohn will bring the evening to a close. During the concert, conductor Lü Jia will share secrets of music pieces and instruments with the audience. The Orchestra will also make demonstrations, promoting a more dynamic interaction with the public. The conductor will also share his conducting experiences, allowing music fans to have a better understanding about orchestras and classical music from different perspectives. This concert will allow the audience to get to know more about chamber music, offering an opportunity for them to unveil the secrets of classical music in different ways.
Admission to the concert "When Music Speaks" is free. Interested parties can register through tel. no. 2853 0782, during office hours, or follow OM's official WeChat account. Reserved tickets must be collected from 19 to 30 June at the Cultural Affairs Bureau Building, during office hours. Tickets are limited and those interested should make their reservations as soon as possible. For more information about the concert, please visit OM's webpage at www.icm.gov.mo.
View gallery