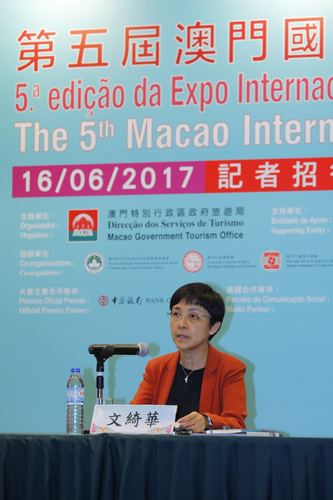 Senna Fernandes gives a speech during the press conference
Supported by China National Tourism Administration (CNTA), organized by Macao Government Tourism Office (MGTO) and coordinated by Macau Travel Agency Association, the 5th Macao International Travel (Industry) Expo ("the Expo" or "MITE") will be held at Hall D, Cotai Expo of the Venetian Macao from 7th to 9th July. MGTO and Macau Travel Agency Association held a joint press conference today (16th June) to unveil the event program this year.
MGTO Director Maria Helena de Senna Fernandes, Deputy Director Cheng Wai Tong and President of Macau Travel Agency Association, Alex Lao, attended the press conference along with others. In her speech, Director Senna Fernandes indicated that the Macao Special Administrative Region Government actively leverages Macao's unique advantages. Committed to the top-down design of the Belt and Road initiative, the SAR Government strives to systemically combine the related work with its endeavors to forge Macao into "one centre and one platform" and foster the Guangdong-Hong Kong-Macao Greater Bay Area development, integrating such endeavors with national development. The Expo seizes the latest development opportunities, leverages Macao's unique strengths and enhances its role as a bridge for exchange and cooperation, in parallel with the SAR Government's work. With CNTA's great support and the collaborative efforts of all participating entities, she believes the Expo will make an increasingly stronger impact to bring together tourism and other related industries from the Mainland and worldwide, with the hope to create a greater wealth of partnership and business opportunities in tourism, while continuing to enhance Macao's role and function in the development of the national economy and its opening-up to the world.
Coming to its fifth edition, MITE is a major annual event for the Macao tourism community. It is dedicated to forging a platform that brings together delegates from the tourism and relevant industries near and afar to exchange ideas, build partnerships and enjoy a common share in visitor markets. The event not only covers six key elements of the tourism industry — dining, lodging, transportation, entertainment, sightseeing and shopping, but also gathers professionals and operators from tourism and other related sectors worldwide, including travel agencies, hotels, scenic spots and attractions, transportation as well as other travel-related services. The event aspires to demonstrate Macao's capability to organize professional travel fairs and comprehensive strengths as an international travel destination, in line with Macao's goal to become a World Centre of Tourism and Leisure.
A range of exhibition zones and items will be spotlighted at the Expo this year, in parallel with the Macao SAR Government's participation in the national Belt and Road Initiative and the Guangdong-Hong Kong-Macao Greater Bay Area development, as well as to highlight Macao's advantages and what the city has to offer. The six featured exhibition zones and items include 1) China's Maritime Silk Road Exhibition Zone: revolves around the Belt and Road Initiative and promotes tourism resources of the Mainland provinces and cities along the Maritime Silk Road; 2) Guangdong-Hong Kong-Macao Greater Bay Area: showcases the development plan and progress of the Guangdong-Hong Kong-Macao Greater Bay Area with a themed presentation seminar; 3) The Tourism Commodity Fair and the Promotion of Leisure Travel Exchange between Mainland China and Macao: promotes Chinese tourism crafts and related industries, and enhances exchange and cooperation between the Mainland and Macao enterprises on leisure tourism. The fair and meeting will be attended by the Mainland tourism businesses invited by CNTA; 4) China – Portugal Tourism Seminar & Networking: held last year for the first time, this session continues to radiate Macao's role as a platform between China and Portuguese-speaking countries by providing an exchange and networking platform for members of the travel trade from both sides; 5) Macao Street Exhibition Zone: showcases and promotes Macao's tourism resources and products; 6) Nostalgic Creative Zone: introduces old and renowned local stores along with display of cultural and creative products, etc. Besides the above, this edition is set to enhance business matching, forge an effective networking and promotional platform for exhibitors and industry buyers to explore new travel styles, while providing useful travel tips for travel enthusiasts.
Up to date, around 180 enterprises and entities from a total of 40 countries and regions have confirmed their participation in the Expo, including travel agencies, hotels, tourist attractions, transportation operators and travel-related industries, etc.
The co-organizers of the Expo this year include the Tourism Development Committee, Macao Chamber of Commerce, Macao Federation of Trade Unions, the General Union of Neighbors Association of Macau, the Women's General Association of Macau, Association of Returned Overseas Chinese Macau, Travel Industry Council of Macau and Association of Macao Tourist Agents. Bank of China Limited, Macau Branch is the official premier partner with the Expo while Teledifusão de Macau, S.A. (TDM) is the media partner in the event. In addition, MGTO will take progressive measures to promote the 5th MITE via promotional videos and various channels.
Official website of the 5th Macao International Travel (Industry) Expo: www.cmitc.com
View gallery