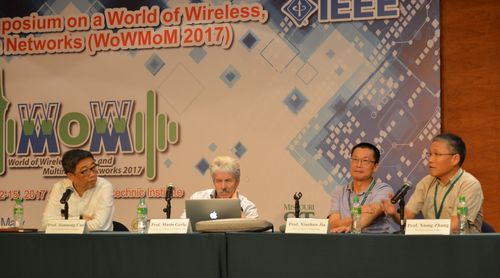 Internationally renowned scholars engage in an academic exchange during the "Big Data & IoT" panel session.
The 18th IEEE International Symposium on a World of Wireless, Mobile and Multimedia Networks (World of Wireless, Mobile and Multimedia Networks, WoWMoM), organised by Macao Polytechnic Institute (MPI), the Institute of Electrical and Electronics Engineers (IEEE) and IEEE Computer Society, the Technical Committee on Computer Communications, Queen Mary University of London, UK, and Missouri University of Science and Technology, USA, came to a close at MPI on 15 June. Delegates engaged in various dynamic academic exchanges, agreeing that this conference was very informative and fruitful.
Professor Sajal K. Das, Professor of the Missouri University of Science and Technology (USA), member of the steering committee and one of the conference's founders, made positive remarks as the conference came to a close, stating that WoWMoM aims to provide a platform facilitating knowledge dissemination and exchange among young researchers through an interactive and friendly environment, while promoting good science and fostering collaboration across the global community. Professor Das complimented on the brilliant efforts and devotion of MPI in making this year's symposium a great success. He looked forward to collaborating with MPI after this symposium, inviting MPI to send outstanding students and faculty to his university on academic exchanges. Speaking on the topic of smart cities, Professor Das believed that opportunities exist for Macao to develop smart city initiatives due to its compact size and excellent location. He suggested advancing the use of technology to connect the community so as to raise the living standard of Macao citizens in all aspects of life.
Professor Marcus Im, General Chair of WoWMoM 2017 and Vice President of MPI, noted that the four-day conference included keynote presentations, industry panels, technical forums and workshops, research demonstrations, poster sessions and a PhD Forum. Over 130 researchers and specialists from 26 countries/regions gathered in Macao to engage in productive exchanges and to offer suggestions for the future of big data and the Internet of Things (IoT). Incumbents were keen to share their experiences and views on the latest developments of their respective fields, providing a point of reference for e-Government and smart city initiatives in Macao. This common platform allows local researchers to foster their mutual understanding on new levels and to explore further cooperation in advancing communication technologies involved in developing a smart city.
The WoWMoM is a leading forum in the field of computing and networking technologies. The annual symposium attracts prominent practitioners and academics from around the world to exchange their views and ideas on the latest trends and developments in the field. The keynote speakers of this symposium were Dr I Chih-Lin, Chief Scientist of Wireless Technologies, China Mobile Research Institute who delivered a speech on "Feeling the Pulse of 5G" and Professor Petri Mähönen from RWTH Aachen University who gave a speech on "Post 5G: Is This The End of Telecommunications?" This year's symposium covers a wide range of technical aspects of wireless communications, IoT, big data and smart cities. Discussion topics include high efficiency multimedia networks, next-generation networks, wireless network analysis and optimisation, context awareness, wearable technology and social networking, localisation and tracking techniques, data analysis and machine learning, mobile data streaming, multimedia systems optimisation, resource management and thin provisioning related areas. Internationally renowned researchers were invited to deliver two keynote presentations which were well received by participants. During the conference, it was announced that the next WoWMoM would be held in Greece in 2018.
View gallery