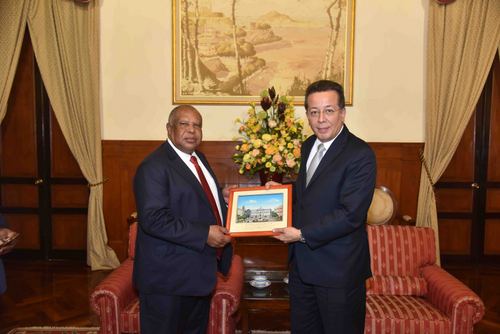 Gift Exchange IACM_UCCLA
Chairman of the Board of Directors of the Institute for Civic and Municipal Affairs (IACM), José Tavares, received a delegation from the Union of Luso-African-American-Asiatic Capital Cities (UCCLA), on June 13, headed by the chairman of General Assembly of UCCLA and governor of the province of Luanda in Angola, Francisco Higino Carneiro. Both sides agreed to strengthen exchanges and cooperation in the area of food security.
The delegation, formed by over 10 members, paid a courtesy visit to the president of IACM and the Institute's headquarters building. During the meeting, IACM president José Tavares said that Macao Government is committed to enhancing Macao's role as a platform between China and Portuguese-speaking countries in terms of food security. He also pointed out that Macao was designated to play the role of "Center for the Distribution of Food Products from Portuguese-Speaking Countries" and highlighted opportunities for cooperation in food security.
Through the channels of communication of IACM Food Security Center, José Tavares believes that it is possible to strengthen the link between China and Portuguese-speaking countries, with a mutual understanding in the area of food inspection, maintaining the quality of food products traded between China and these specific markets, which will ultimately increase consumer confidence and streamline the process of introducing these products into their markets.
The same official said that in October of last year, the Secretariat for Administration and Justice of the Government of Macao Special Administrative Region and the Ministry of Economy of the Portuguese Republic signed the "Protocol of Cooperation, in the scope of Monitoring and Supervision of Food Activities". IACM and the Food and Economic Security Authority of Portugal (ASAE) are actively working together in several areas, of which José Tavares pointed out that ASAE agreed to participate in the Online Electronic Transactions Platform of the "Center for the Distribution of Food Products of Portuguese Speaking Countries". In this way, both parties agreed to create a permanent mechanism of mutual synchronization of inspection for Portuguese-speaking products through Macao. Through mutual recognition by documentary means, the products will be put on the market at the earliest opportunity, shortening the time necessary to verify the certificates and health inspection. The delegation expressed its support for the idea and also showed interest in knowing details about the work of urban hygiene and environmental health of this Institute.
The meeting was also attended by the Head of the Technical Support Office of the IACM, Salina Wong, and head of the Macao Economic and Trade Delegation in Lisbon, O Tin Lin, Angolan general consul in the Macao SAR, Sofia Pegado da Silva, and the general secretary of UCCLA, Vítor Ramalho, among others, as part of UCCLA's delegation.
View gallery