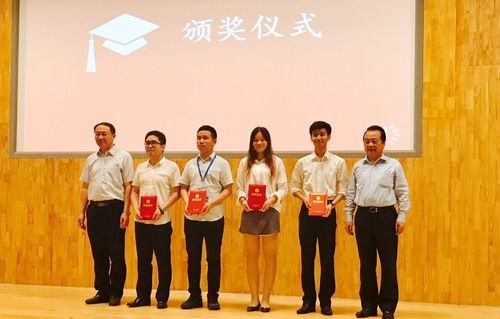 The paper of ICMS master's student Li Pengpeng (2nd from right) receives the first prize of a national pharmaceutical forum
Li Pengpeng, a master's student from the University of Macau (UM) Institute of Chinese Medical Sciences, recently received the only first prize at the First National Academic Forum for Postgraduates of Pharmacy, for her paper titled 'Pharmaceutical Co-innovation Network: Global Patterns and the Role of China'. The forum received 340 paper submissions from 61 well-known universities, including China Pharmaceutical University, Shenyang Pharmaceutical University, Peking University, Fudan University, Nanjing University, and Zhejiang University. Li's supervisor is ICMS Associate Professor Hu Yuanjia.
Using a complex system approach to visualise the evolution of global pharmaceutical co-innovation network, the study provides a detailed analysis of the locations of pharmaceutical innovation and cross-regional collaboration as well as an evaluation of the development of pharmaceutical innovation in emerging economies, such as China. This research is of great importance to exploring the geographical distribution of pharmaceutical co-innovation, which is critical information for precisely locating innovation highlands and enhancing the efficiency of research and development activities. Moreover, the network-analytic framework initially proposed in this study has set a methodological basis for dynamically tracking the global landscape of drug innovation, which can provide important references for exploring the patterns and trends of pharmaceutical R&D internationalisation.
View gallery