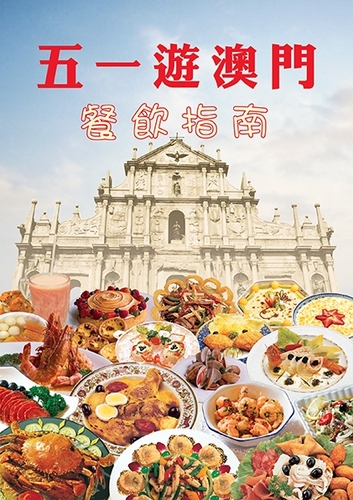 "Macao Food Guide for the 1st May Vacation"
As the 1stMay Labor Day holidays (29th April – 1st May) approaches in the Mainland, Macao Government Tourism Office (MGTO) actively gets prepared with a variety of measures adopted as follows: more scrupulous inspections, sending reminders to local businesses via letter, food guide publication, attending to enquiries at different stationed locations and supporting entities in organizing festive and holiday activities, etc. The above measures aim to cater to local residents and visitors with regard to their needs, and keep optimizing the tourism environment and safeguarding service quality in the local industry.
MGTO regularly publicizes the room rates declared by local hotels and guest houses in different room categories on its website, and via its WeChat ID, advises visitors to arrange their accommodation and itinerary in advance prior to their trip.
During the Labor Day holidays, MGTO will carry out more scrupulous inspections at various tourist spots, ports of entry and local areas. Besides, the Office will take concerted action with police authorities to combat illegal accommodation. MGTO's inspectors will stand by round-the-clock, while more manpower may be stationed at Tourist Information counters based on demand. MGTO's tourism hotline (853) 2833 3000 will maintain its 24-hour operator service as usual to answer visitors' enquiries. Visitors can also have an access to tourism and other related information on MGTO's website.
Advising the trade to assist in diverting visitors
In order to safeguard visitor rights and ensure tourism quality, MGTO has sent letters to local businesses to raise their awareness about hygiene, fire safety, guest capacity, opening hours, occupational guideline on tour group operation as well as assistance in diverting visitors and respective itinerary arrangement, requirement for hotels and catering establishments to declare price lists as well as for hotels to keep records of hotel guest information upon check-in, hotel swimming-pool management guideline and so forth. Through mobile text message, the Office has also advised visitors to visit popular attractions during off-peak hours, thus diverting visitors from bustling tourist areas to minimize their impact on traffic and neighborhoods nearby and maintain a positive image of the destination. In addition, staff will be stationed at ten different tourist spots to offer tourism information and guidance for visitors and assist in crowd management between 29th April and 7th May. On the other hand, MGTO supports local associations in organizing festive and holiday activities, including an Easter-themed activity at Anim'Arte Nam Van from 12th April until 7th May, and performances at the Taipa Houses from 1st to 7th May. The activities will add new choices of entertainment and leisurely vibes during the Labor Day holidays.
Furthermore, MGTO maintains regular communication and exchange of information with the Consumer Council, Public Security Police Force, Macao Customs Service, Marine and Water Bureau, Transport Bureau and so forth. Visitors can access Public Security Police Force's website: http://www.fsm.gov.mo/psp/pspmonitor on mobile phone or computer and check real-time border-crossing images at the arrival/departure halls and traffic lanes of Barrier Gate, Outer Harbour and Cotai Frontier Post on the "Real-Time Information Platform of Border Ports", which enables them to choose a suitable timing to leave or arrive at Macao. MGTO's website offers a direct link to the platform as well.
Handy information for an enjoyable trip
Residents and visitors can conveniently check out monthly highlights about local events and festivals, performances, exhibitions, activities as well as the newest attractions in town on MGTO's mobile app "What's On, Macao". They can also download the mobile apps "Experience Macao" and "Step out, Macao" to acquire more local tourism information. On the other hand, visitors can obtain the promotional pamphlet "Enjoy Macao" at MGTO's Tourist Information counters and service counters.
For local dining, visitors can find award-winning restaurants and eateries listed in the publication "Star Merchant Award – Restaurants and Eateries Guide". MGTO has also published the "Macao Food Guide for the 1stMay Vacation" (Chinese version only) together with the General Union of Neighbors Association of Macau, the United Association of Food and Beverage Merchants of Macao, the Industry and Commerce Association of Macau Northern District, the Industry and Commerce Federation of Macau Central and Southern District as well as the Industry and Commerce Federation of Islands of Macao. Offering a contact list of restaurants and eateries open during the Labor Day holidays, the handy food guide familiarizes locals and visitors with relevant restaurants' operation information.
The "Star Merchant Award – Restaurants and Eateries Guide" and the "Step Out, Experience Macao's Communities" brochure can be downloaded from MGTO's website: http://www.macaotourism.gov.mo or acquired from MGTO's Tourist Information counters. The "Macao Food Guide for the 1st May Vacation" will be distributed during the Labor Day holidays; it is also available on WeChat or can be downloaded from MGTO's website.
View gallery